Converters for Locomotives
KONČAR manufacture a range of electronic equipment for electric locomotives, their converters are used for supplying the main and auxiliary drives of locomotives. KONČAR's converters feature high quality, functionality and reliability combined with easy maintenance.
KONČAR's two converters for locomotives are: KONTRAC GP 1000 AC and KONTRAC PN 170 AC.
Propulsion Converter for Locomotives - KONTRAC GP 1000 AC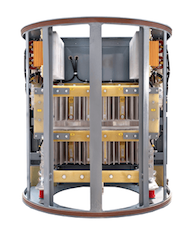 Thyristor propulsion converters convert AC network electric power fed from a transformer output into propulsion power for DC traction motors. The converter is used in the process of modernisation of old diode locomotives into thyristorised locomotives as well as for building new locomotives.
Replacement of diode converters with the thyristor converters and implementation of vehicle control unit for traction application (VCU) ensures conversion of old diode locomotives to modern thyristor locomotives with superior traction and exploitation characteristics.
Features
- Easy maintenance
- Machine room mounting
- Robust and powerful semiconductors
- Air cooled cooling system
- Electrically and mechanically compatible with the existing diode locomotive power supply equipment
Technical Data
| | |
| --- | --- |
| Input voltage | 1144V, 50Hz |
| Propulsion output | 1000kW |
| Cooling | Forced air-cooling |
| Size | 770 x 57 x 840mm |
| Weight | 150kg |
| Mounting position | Machine room |
Auxiliary Converter for Electric Locomotives - KONTRAC PN 170 AC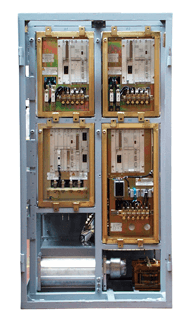 This converter is fed from a dedicated winding of the main transformer, converts single-phase voltage into three-phase stabilised voltage and supplies electrical loads such as traction motor blowers, brake resistor blowers, transformer oil cooler blowers, pump, compressors and HVAC. The battery charger is an integral part of the converter, is used for charging locomotive batteries and supplying of all DC consumers on board the vehicle.
Features
- Modular design of power units
- High energy efficiency
- Machine room mounting
- Easy maintenance
- Latest IGBT technology
Technical Data
| | |
| --- | --- |
| Input voltage | 900V, 50Hz |
| AC outputs | 3 x 400V, 50Hz, 4 (5) x 52kVA |
| DC output | 72 / 135 VDC 6kW |
| Cooling | Forced air-cooling |
| Size | 900 x 1360 x 1675mm |
| Weight | 1450kg |
| Mounting position | Machine room |
| Connecting interface | CAN / MVB / Ethernet |
KONČAR
KONČAR is a leading manufacturer of electric equipment and electro-energetic plant. They specialise in development, engineering, production, testing and maintenance of industrial electronic devices and systems.
Their production program includes - converters and control systems for railway vehicles, DC and AC UPS, static excitation systems for synchronous machines, ripple control systems, protection relays, electric measurements devices and systems, process informatics, electronic modules production and switches, transformer and reactor production and mechanical parts production.
Further information:
You can find further information on KONČAR using the following links:
Tel: 01444 243 452
Fax: 01444 870 722
Email: enquiries@gdrectifiers.co.uk