November 2017 - IXYS Launch IXRFD615 15A RF MOSFET Driver
Published on: 28/11/2017
IXYS launches new high performance RF Power MOSFET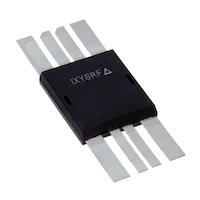 The IXRFD615 represents the next IXYS generation of high performance, RF Power MOSFET Driver ICs. Some of the feature highlights of the new IXRFD615 include:
The IXRFD615 is a CMOS high-speed, high-current gate driver specifically designed to drive MOSFETs in Class D and E RF applications as well as other applications requiring ultrafast rise and fall times or short minimum pulse widths.
The IXRFD615 can source and sink 13 amperes of peak current while producing voltage rise and fall times of less than 5 nanoseconds and minimum pulse widths of 8 nanoseconds. The input of the driver is compatible with TTL or CMOS and is fully immune to latch up over the entire operating range.
The IXRFD615 is packaged in a low-inductance surface mount RF package incorporating advanced layout techniques to minimize stray lead inductances for optimum switching performance.
Designed with small internal delays, cross conduction or current shoot-through is virtually eliminated. The features and wide safety margin in operating voltage and power make the IXRFD615 unrivalled in both performance and value.
Features:
- Isolated substrate
* High isolation voltage (>2500V)
* Excellent thermal transfer
* Increased temperature and power cycling capability
- High peak output current
- Low output impedance
- Low quiescent supply current
- Low propagation delay
- High capacitive load drive capability
- Wide operating voltage range
Advantages:
- Optimised for RF and high speed
- Easy to mount, no insulators required
- High power density
- RoHS Compliant
GD Rectifiers is an authorised distributor for IXYS, IXYS UK Westcode and IXYS Colorado.
For further information on the IXRFD615 please contact GD Rectifiers on: 01444 243 452 / .(JavaScript must be enabled to view this email address).