May 2018 - Selecting Heatsinks Efficiently
Published on: 08/05/2018
Find out how to select the right heatsink for your next project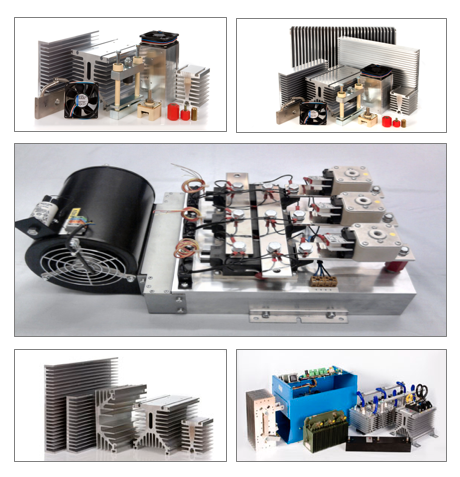 Heatsinks made of extruded aluminium are often the preferred method of choice when sourcing heat dissipation solutions of electronic semiconductor devices.
Heatsink solutions provide efficient thermal management, but purchasers also need to consider thermotechnical performance and additional functional features to determine how suitable a heatsink is for their project.
The heat dissipation process of electronic components is usually made by means of an active or passive system, also known as a quiet (free convection) and loud (forced version, using additional fans/motors) form of dissipation.
The forced heat dissipation usually offers increased performance of the heat dissipation air flow, but due to the application, specific features or the resulting noise level has to be applied in a certain way. Extruded heatsinks are an efficient source for dissipating electronic semiconductor devices for smaller and bigger power losses.
The surface enlargement of the fin structure has its restrictions in way of construction size like volume or weight and also physical limitations caused by the specific thermal conductivity of aluminium.
Heatsink compatibility is crucial in the selection process and with numerous designs available on the market, it is often hard for buyers and engineers to determine the profile they need.
Selecting the right heatsink
Selecting the right heatsink will depend on the application it is being used for and whether it will achieve efficient dissipation results in terms of geometry with the correlated seizes. Discover our top five tips in finding the right heatsink for you:
1) The easiest way to select the right heatsink is to calculate the thermal resistance for the application and consider the maximum temperature range and the amount of heat dissipation required from the device.
2) Heatsink manufacturers tend to specify their heatsinks by thermal resistance in the form of numerical values, diagrams or datasheets. It is often more time effective for buyers and engineers to contact the heatsink manufacturers direct to determine the heatsink specification required.
3) Another important element to consider when selecting a heatsink is the installation position of the heatsink. If the optimum mounting direction of the heatsink in the application cannot be done due to mechanical conditions or space requirements, buyers need to consider this in their thermal resistance calculation. Differing heatsink installation positions can reduce thermal resistance depending on the heatsink geometry by 10-15%.
4) Alongside the heatsinks length, the fin height also has to be adjusted to the heat source for the heatsink selection. It's important to consider the fin efficiency of a heatsink why is defined by the heat flow which the fin actually dissipates to the ideal heat flow. The right fin height in connection to the right width enters a saturation region at a certain point which means that thermotechnically seeing an enlargement of the fin would have no affect. The fin temperature would be set to the level of the ambient temperature at a certain point.
5) Fin geometry is the next point to consider. Rectangular fins are usually used for force convection and conical fin shapes are mainly used for free convection. The difference between the two is that with conical fins a flow resistance arises and air velocity at the bottom of the fins which is why it should be clarified if possible air flows or fans are required for the application. If fans are required, it is often recommended that the engineer uses rectangular fins.
Efficient heatsinks are an essential component of any power semiconductor system and GD Rectifiers have a wide range of extruded aluminium heatsinks available from stock.
GD Rectifiers is one of the UK's leading heatsink manufacturers, they can provide standard heatsinks from over 160 profiles in stock or customised heatsinks bespoke to their customers.
All extrusions can be supplied as cut lengths or drilled and machined to customer specifications. We operate the latest CNC drilling and machining centres which provide accurately machined, cost-efficient parts on short lead times.
Our extensive range of heatsinks can be supplied in a natural or black-anodised finish.
Discover our complete heatsink range today:
Aluminium Heatsinks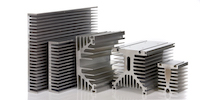 We offer a wide range of aluminium heatsinks, heatsink accessories and heatsink assemblies. We are your one-stop shop for thermal management solutions.
Custom Heatsinks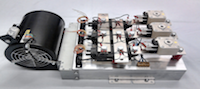 We offer the most comprehensive range of customised heatsinks, providing cost effective solutions for todays' global market.
Forced Air Cooled Heatsinks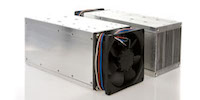 We're one of the leading manufacturers of forced-air cooled heatsinks, an essential requirement in modern day electronics, used to reduce the temperature through thermal mass and impedance.
View Forced Air-Cooled Heatsinks
Hollow Fin Heatsinks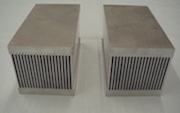 We manufacture a range of hollow fin heatsinks used in a large range of applications, including: communications, industrial controls, military, motor drives, power controls, solar energy and transportation.
Solid Fin Heatsinks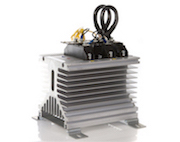 We design and manufacture a wide range of solid fin heatsinks which are typically used in devices across numerous industries including industrial controls, military, motor drives and power controls.
Water & Oil Cooled Heatsinks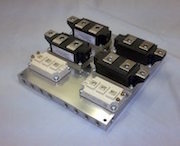 We manufacture a large range of high quality, low cost water coolers for isolated base thyristor, diode and IGBT modules.
View Water & Oil Cooled Heatsinks
For further information on our heatsink range or to discuss your requirements, please call: 01444 243 452 or email: .(JavaScript must be enabled to view this email address).