May 2018 - KONCAR's Official UK Distributor
Published on: 17/05/2018
GD Rectifiers is the official UK distributor for the KONČAR Group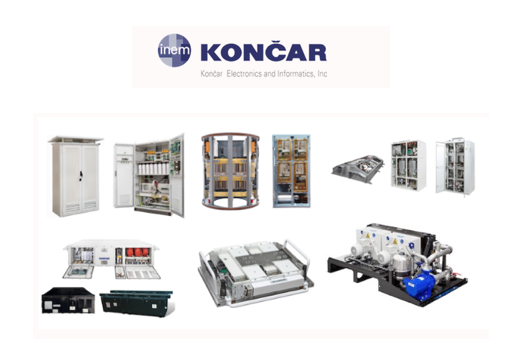 KONČAR is the leading regional manufacturer of power electronics, protection, measurement and ripple control systems and devices for equipping complex plants in energetic, industry and transport and one of the more significant Croatian suppliers of ICT equipment and business information systems.
KONČAR manufactures electric equipment and electro-energetic plant, specialising in the development, engineering, production, testing and maintenance of industrial electronic devices and systems.
GD Rectifiers is proud to be KONČAR's official distributor in the UK, they distribute a wide range of traction converters for electric and diesel-electric multiple units, electric and diesel-electric locomotives, trams, passenger coaches and substations. They also offer a large range of liquid cooling systems suitable for standalone installation or on the roofs of vehicles and power electronic building blocks.
GD Rectifiers also stock a wide range of passive and semiconductor components used in the rail industry, including: capacitors, fuses, high voltage diodes, resistors, MOSFETs, IGBTs and thyristors. We offer competitive pricing, fast delivery and a scheduled order service on components from some of the world's leading manufacturers.
For further information on KONČAR's product range click here.
Contact our sales team today to discuss your requirements in more detail: 01444 243 452 / .(JavaScript must be enabled to view this email address).