March 2018 - GD Rectifiers' Range of Semiconductor Components
Published on: 22/03/2018
From diodes to MOSFETs and everything in-between, GD Rectifiers are your one-stop shop for all semiconductor components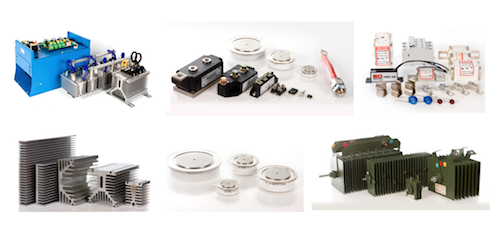 GD Rectifiers are one the UK's leading power electronic component distributors, they offer a wide range of technologies from a large portfolio of world-leading semiconductor manufacturers. They continuously update their product offering so that buyers and electronics design engineers can use GD Rectifiers as their one stop shop for their power electronic component needs.
As one of the leading semiconductor component distributors in the UK, GD Rectifiers boost a wide product range in stock at their offices in Burgess Hill, West Sussex. GD Rectifiers can support customers in all aspects of semiconductor technology, from design to technical support, custom designed concepts, prototypes, samples and mass production of semiconductor components.
GD Rectifiers also manufactures a wide range of semiconductor components; Thyristors, Power Assemblies, Custom-designed Power Capacitors, Selenium Rectifiers, Selenium Suppressors, High Voltage Rectifiers, Standard or Custom-designed Heatsinks and replacements for Obsolete Semiconductors.
GD Rectifiers are the go-to power specialists across some of the world's most reputable industries; automotive, medical, rail and aviation. They are at the forefront of innovative technology and help design and manufacture semiconductor components for some of the biggest rail and medical projects in the UK.
GD Rectifiers' Range of Semiconductor Components
Diodes
GD Rectifiers stock the UK's largest range of Diodes from IXYS, IXYS UK Westcode and SEMIKRON.
All of the diodes stocked by GD Rectifiers offer class leading performance and high reliability. They stock diodes to suit every application.
Discrete IGBTs
GD Rectifiers stock an extensive range of Discrete IGBTs from IXYS, including: XPT, NPT, SPT, GenX3TM, SCSOA and Reverse Blocking IGBTs.
GTO Thyristors
GD Rectifiers offer a wide range of IXYS UK Stud and Capsule Gate Turn-off Thyristors with voltage ratings of up to 6Kv and controllable current ratings of up to 4kA.
High Voltage Rectifiers
GD Rectifiers offers a popular range of replacement parts of devices previously made by IXYS, Marconi and SEMIKRON. The High Voltage Rectifiers are high voltage, low current and are avalanche rated making them suitable to absorb limited reverse voltage transients.
IGBTs
GD Rectifiers offers a wide range of IGBTs from the world's leading semiconductor manufacturers; IXYS, IXYS UK and SEMIKRON.
MOSFETs
GD Rectifiers offers a pioneering range of MOSFETs from IXYS and SEMIKRON used for high frequency switching control of power electronic systems.
Obsolete Semiconductor Replacements
GD Rectifiers offers replacements for Obsolete Semiconductors and hard to find electronic components, including Integrated Circuits, Semiconductors and Resistors.
Power Assemblies
GD Rectifiers offers a large range of Power Assemblies from IXYS UK and SEMIKRON.
GD Rectifiers also designs and manufactures it's own range of Power Assemblies covering all configurations in the most extensive power ranges.
Power Capacitors
GD Rectifiers offer an extensive range of industry leading Power Capacitors from API Capacitors. GD Rectifiers work closely with API Capacitors to offer customers a unique and tailored way of buying Custom-designed Power Capacitors.
Thyristors
GD Rectifiers offers the largest range of Thyristors from IXYS, IXYS UK and SEMIKRON.
They stock Discrete Thyristors, Distributed Gate Thyristors, Fast Turn-off Thyristors and Medium Voltage Thyristors. They also offer their own range which feature low loss and high efficiency phase controlled Thyristors ranging from 750A to 4000A.
For further information on all Semiconductor Components, please contact GD Rectifiers on: 01444 243 452 or email: .(JavaScript must be enabled to view this email address).