Bussmann Fuses
GD Rectifiers is an official distributor for Eaton's Bussmann series and stocks their complete range of Bussmann Fuses, Circuit Breakers and Distribution Blocks.
Eaton Bussmann is the industry leader in critical circuit protection fuses, power management and electrical safety. Bussmann products are approved for use around the world and meet agency requirements and international standards: IEC, VDE, DIN, UL, CSA and BS. Eaton manufactures over 50,000 Bussmann series part numbers and are specialists in the design, development and manufacture of fuse links and their associated accessories.
This Bussmann division is committed to the development of fuses and provides an extensive range of fuses including: High Speed Fuses, Medium Voltage Fuses, IEC & British Standard Fuses, Low Voltage UL Fuses, Industrial Fuses, High Voltage Fuses and Square Body Fuses.
High Speed Fuses Medium Voltage Fuses


Current: 1A-7500A Current: 0.5A-900A
Voltage: 150Vac-2100V Voltage: 1000V-8300V
Types: BS88, Compact High Speed, DFJ Types: BBU, Boric Acid, BS IEC,
Drive, Ferrule, North American, Square Body DIN IEC, E-rated, Fast Acting, R-rated
Shop High Speed Fuses Shop Medium Voltage Fuses
IEC & British Standard Fuses Low Voltage UL, CSA Branch Circuit Fuses


Current: 1A-1600A Current: 1/10A-6000A
Voltage: 240V-800Vac Voltage: 125Vdc-690Vac
Types: BS88 Low Voltage, CSA Type P and D, DIN Types: Class CC, Class CF CUBEFuse, Class G,
Style Type D and Neozed, Ferrule Class gG/gL, aM, Class J, Class K5 and H, Class L, Class RK1,
aM gG/gL, NH HRC Square Body gG/gL, HRCI Class T, Plug Fuses
Shop IEC & British Standard Fuses Shop Low Voltage UL, CSA Branch Circuit Fuses
Industrial Fuses (Red Spot) High Voltage Fuses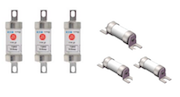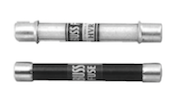 Current: 2A-200A Current: 3.15A-63A
Voltage: Size A1 - 550Vac/250Vdc, Size A2 to Voltage: 3.6kV-36kV
A4 - 660/690Vac-460Vdc Types: Motor, MV & Auxiliary, MV Oil, MV BS88,
Types: class gG - NIT, TIA, TIS, TCP, TFP US Style E-Rated, Boric Acid Fuses
Shop Industrial Fuses Shop High Voltage Fuses
Square Body Fuses Battery Storage Fuse Links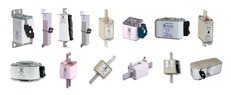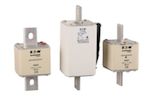 Current: 10A-5000A Current: 63A-500A
Voltage: 660Vac-4000Vac Voltage: 1000Vdc-1500Vdc
Types: DC, DIN, Flush End, French Style, Types: NH and XL
US Style Fuses Shop Battery Storage Fuse Links
View the complete Bussmann Fuse Series Full Catalogue or use our Cross Reference PDF to compare Bussmann's alternative part numbers to some of the industry's most commonly used high speed fuse links.
For further information or if you can't find what you're looking for, please call us on: 01444 243 452 or email: .(JavaScript must be enabled to view this email address).
Eaton Bussmann
Eaton Bussmann are a division of Cooper Industries and are a leading Manufacturer of Circuit Protection Solutions. They manufacture a wide range of Circuit Protection Fuses, Microswitches and Trip Indicators.
Further information:
You can find further information on Eaton Bussmann using the following links:
Tel: 01444 243 452
Fax: 01444 870 722
Email: enquiries@gdrectifiers.co.uk