Bussmann Ferrule Fuses
Bussmann's wide range of Ferrule (cylindrical clip-mounted) fuses are designed and tested to meet the industry's standard and requirements across the world. Bussmann's ferrule fuses offer a unique design and provide superior cycling capability and low energy let-through.

Ferrule fuses are an excellent solution for small UPS, small AC drives and various other low power applications where space is of the essence.
The majority of Bussmann's ferrule fuses have been tested at their rated voltage except 690V which has been tested to the IEC 60269 standard, requiring clearing at the rated voltage +5%.
Ferrule fuses are often mounted in fuse clips, fuse holders, fuse blocks or fused switches.
Ferrule Fuse Accessories
Fuse Holders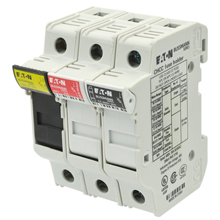 DIN Rail Mount Fuse Holders
Part Reference: CH Series
North American 10 x 38 Class CC: Listed UL 4248, Guide IZLT, File E14853, Certified CSA Std. C22.2 No.39, Class 6225 01, File 47235
North American 10 x 38 Midget: Recognised UL 4248, Guide IZLT2, File E14853, Certified CSA Std. C22.2 No.39, Class 6225 01, File 47235
European: 10x38 IEC 269-2-1, 14 x 51 IEC 269-2-1, 22x 58 IEC 269-2-1
Features
- Finger-safe design with no exposed contacts
- DIN rail mount (35mm) – fits standard mounting rails
- Optional open fuse indication lights which can tell fuse status at a glance
- Handle/fusepuller easily installs and removed fuses
- Available in single and multi-pole configurations
- Wire ready lugs and spade terminal connections save installation time
- CE marking
- Available up to 1000Vdc
- PLC device available for remote monitoring
Typical applications include: switchboard panel, control consoles, small motors and transformers.
Recommended Bussmann Fuse Types
Class CC – North American Class CC Fuses – LP-CC, FNQ-R, KTK-R
10x38: North American Midget Fuses – FNQ, KTK, AGU, BAF, BAN, FNM, FWA, FWC, PV & NON
14x51: Fuses – FWX, FWH, FWP & NON
22x58: Fuses – FWP
Fuse Blocks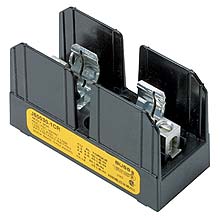 Fuse blocks for 22 x 58mm & 14 x 51mm fuses
Part Numbers: J70100, J70032
Ratings: 700Vac, 32-100A, 200Ka RMS Sym.
Flammability Rating: UL 94V0
For further information Bussmann's range of Ferrule Fuses please call our team on: 01444 243 452 or email: .(JavaScript must be enabled to view this email address).
Eaton Bussmann
Eaton Bussmann are a division of Cooper Industries and are a leading Manufacturer of Circuit Protection Solutions. They manufacture a wide range of Circuit Protection Fuses, Microswitches and Trip Indicators.
Further information:
You can find further information on Eaton Bussmann using the following links:
Tel: 01444 243 452
Fax: 01444 870 722
Email: enquiries@gdrectifiers.co.uk