Square Body Fuses
Bussmann's Square Body DC Fuses are high speed fuses that provide superior protection in light and harsh DC traction applications as 1200Vdc and below circuits, and as DC link/power converters.
The square body DC fuses feature excellent DC performance and low arc voltage and low energy let-through. The fuses also feature low watts loss and superior cycling capability.
Typical applications for Bussmann's square body DC fuses include: DC common bus, DC drives, power converters/rectifiers and reduced voltage starters.
Square body fuses are a reliable solution for high power applications which require a compact design with superior performance.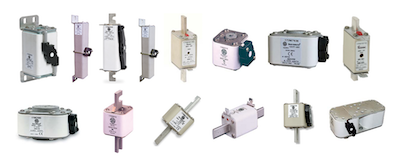 Bussmann's square body fuses are available with a selection of different end fittings: DIN 43 653, DIN 43 620, Flush End (Metric/US), French Style and US Style. The square body fuses are available with three different open fuse indicator systems and the Bussmann offers a custom designed service to their customers.
All Bussmann square body fuses are tested to IEC 60269: Part 4, which requires a test voltage 5% higher than the rated voltage.
View Bussmann's High Speed Fuse Catalogue
Square Body DC Fuses
1200Vdc: 160-420A
4000Vdc: 20-450A
750Vdc: 63-500A
2000Vdc: 10-125A
Square Body DIN Fuses
Square Body Flush End Fuses
Square Body French Style Fuses
Square Body US Style Fuses
For further information on Bussmann's range of Square Body Fuses, please call our team on: 01444 243 452 or email: .(JavaScript must be enabled to view this email address).
Eaton Bussmann
Eaton Bussmann are a division of Cooper Industries and are a leading Manufacturer of Circuit Protection Solutions. They manufacture a wide range of Circuit Protection Fuses, Microswitches and Trip Indicators.
Further information:
You can find further information on Eaton Bussmann using the following links:
Tel: 01444 243 452
Fax: 01444 870 722
Email: enquiries@gdrectifiers.co.uk