Littelfuse Fuses
Littelfuse is a global leader in circuit protection and offers a comprehensive range of speciality fuses including: solar fuses, semiconductor fuses, telecommunications fuses, TVSS fuses, French cylindrical fuses, inline fuses, lift truck fuses, telcom alarm indicating fuses, cable limited fuses and plug fuses.
Littelfuse's fuse ratings and other performance criteria are evaluated under laboratory conditions and acceptance criteria, and defined in one or more various fuse standards. Its' important for customers to understand these standards so that the fuse can be properly applied to circuit protection applications.
Littelfuses' extensive range of fuses comply to the following standards: UL Listed, METI approved and IEC recognised.
Industrial Power and UL Fuses Medium Voltage Fuses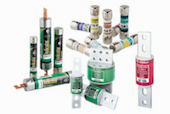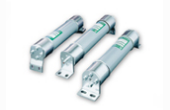 Current: 0.1A – 2000A Current: 0.5A – 800A
Voltage: 250VAC -1000VAC, 125VDC – 1000VDC Voltage: 600VAC – 38000VAC
Types: Class L, Class RK5, Class RK1, Class J, Types: E-Rated, R-Rated, Potential
Class CC, Class T, Midget 10x38mm, Class G Transformer, 700-xxx Series
Class K5, Class H Fuses
Shop Industrial Power and UL Fuses Shop Medium Voltage Fuses
Resettable PTCs Fuses Specialty Power Fuses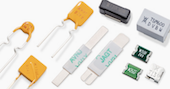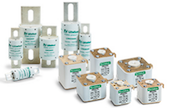 Current: 0.05A - 6A Current: 0.3A – 2000A
Voltage: 6V – 250V Voltage: 32VDC – 1500VDC
Types: TD and Chip Resettable, Low Resistance, Types: Solar, Semiconductor,
Surface Mount, Radial Leaded, Battery Strap, Telecommunications, TVSS, French
Telecom, Bladed Devices, Line Voltage Rated Cylindrical, Inline, Lift Truck, Telcom
Devices Alarm Indicating, Cable Limiter, Plug Fuses
Shop Resettable Fuses Shop Specialty Power Fuses
View the complete Littelfuse Fuse Catalogue or for fast and friendly technical advice, call our team today to discuss your requirements on: 01444 243 452 or email: .(JavaScript must be enabled to view this email address).
Littelfuse
Littelfuse is a global manufacturer of leading technologies in circuit protection, power control, and sensing. Littelfuse products are found in automotive and commercial vehicles, industrial applications, data and telecommunications, medical devices, consumer electronics, and appliances. They partner with customers to design, manufacture, and deliver innovative, high-quality solutions, for a safer, greener, and increasingly connected world—everywhere, every day.
Further information:
You can find further information on Littelfuse using the following links:
Tel: 01444 243 452
Fax: 01444 870 722
Email: enquiries@gdrectifiers.co.uk