August 2019 - Getting to know Dynex
Published on: 16/08/2019
Learn more about Dynex's extensive power semiconductors product range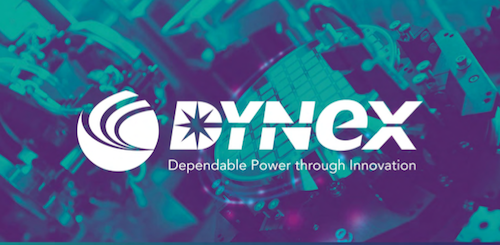 Dynex has more than 60 years' experience in the design and production of high power semiconductors. Dynex and its R&D division have been based in Lincoln (UK) since 1956.
Parent company of Dynex, CRRC Times Electric's R&D division plays an integral role in the semiconductor industry and provides cutting-edge research and development of semiconductor-based products and technology across a wide power range, speciailising in electric vehicles, rail traction, aerospace, power distribution and renewable energy,
The Times Electric Innovation Centre (TEIC) is part of the strategy for a combined CRRC Times Electric and Dynex partnership to become a major global player in semiconductor technology. Dynex and Soil Machine Dynamics now have full royalty-free access to relevant semiconductor-related outputs of the new TEIC.
The R&D centre provides:
- Co-operation with EU/UK research groups to access supply chains and new technology
- Development of advanced manufacturing technology for power semiconductor devices
- New product design and development including: power semiconductor devices and automotive motor drive power electronics
- Training and technical support services for CRRC
Dynex's wide range of semiconductor components and assemblies service over 60 countries around the world and are predominantly used in industrial, electric grid, transportation and renewable applications.
Industrial applications
- Factory automation
- Heavy industries
- Industrial power controllers
Electric grid
- LCC HVDC
- SVC STATCOM
- VSC transmission
Transportation
- Electric vehicles
- Marine
- railways
Renewables
- Solar power
- Wind power
Dynex specialise in high power IGBT modules and bipolar products, manufacturing robust and reliable modules that are used worldwide. They offer a full in-house production from silicon wafer to modules.
Dynex IGBTs
Dynex offers three generations of IGBT technologies: punch through DMOS, non-punch through (NPT) DMOS and trench gate.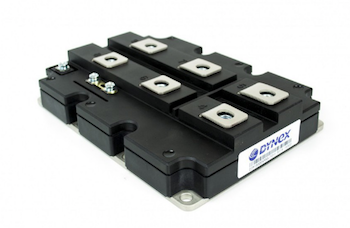 Dynex's IGBT technology provides:
- Application dependent optimisation for low switching losses or low static losses
- High DC stability via advanced edge termination design
- High short circuit capability-wide SCSOA
- Self-limiting short circuit current
- Low switching losses
- Tj (max) = 150°C
- Low VCE (sat) with positive temperature coefficient
Dynex's IGBTs offer the following:
- Improved robustness
- Standard industrial outline
- NPT chips for 1.2kV & SPT chips for higher voltage 1200V NPT
- AISiC baseplate with AIN substrate
- Copper baseplate with AIO2 substrate
- Single, dual or bi-directional switch, chopper and half bridge configuration
- Custom module design and manufacture capability
Dynex's IGBTs are suited to power control and switching at high voltage (800V and up):
- Motor control
- Electric vehicle
- HVDC transmission and conversion
- Railway traction and auxiliary
- Marine propulsion
- Wind, solar conversion
- Power supply
- High current circuit breaker
As a leading supplier of high power semiconductor devices, Dynex operates a total quality management system designed to provide customers with products and services of the highest standard. Dynex are proud to be certified to the following standards:
- Quality Management Systems ISO 9001:2008
- Environmental Management Systems ISO 1400:2004
- Energy Management Systems ISO 50001:2011
Dynex are proud to manufacture their IGBTs with a voltage range of 1200-6500V in the UK and can produce over 100,000 modules a year.
View the full range of Dynex's High Power IGBT Modules here
Dynex's Fast Recovery Diodes
As the IGBT cannot reverse conduct a diode is required in anti-parallel to be able to handle the reverse voltage presented when switching. Dynex's fast recovery diodes are optimised for: fast switching and recovery, low recovery losses while maintaining minimal Vf and wide RBSOA for maximum robustness.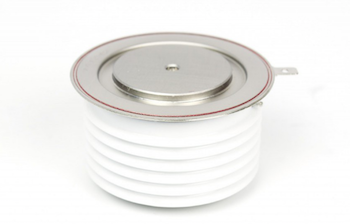 Dual and triple diode modules are available for 1.2kv, 1.8kv, 3.3kv, 4.5kv and are available in eight package types.
View the full range of Dynex's FRDs here
GD Rectifiers became an official distributor for Dynex earlier this year, they work closely with customers on suggesting suitable products for new projects and builds, provide technical support, offer short lead times and competitive pricing.
For further information on Dynex's product range, or for pricing and lead times, please call GD Rectifiers on: 01444 243 452 or email: .(JavaScript must be enabled to view this email address).