August 2019 - A Quick Guide to Semikron's SKYPER 12 Press Fit IGBTs
Published on: 09/08/2019
A robust IGBT driver for press-fit mounting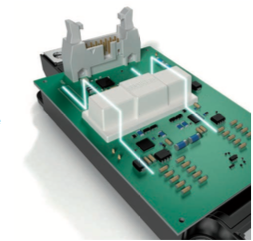 Semikron's Skyper 12 Press-Fit IGBTs feature drives up to 600A and 1700V and are typically used in motor drives, solar energy, power quality and urban transport equipment applications. The Skyper 12 Press-Fit IGBTs for 12mm modules with new mixed signal ASICs offer robust driver technology.
Key Features
- Safe electrical insulation
- Fast press-fit assembly
- Safe gate control
- Robust driver technology
- ROHS compliant
- UL recognised
- SOA qualified module-driver bundle
- Dynamic short circuit protection with soft-off
- Insulated over-temperature shut down
- EMC optimised interface
- Short-pulse suppression
- Internal dead time generation
- Insulated power supply with stabilised gate voltages
Benefits
- Easy assembly
- Electrical robustness
- A long service life
- Pressed directly on to the IGBT module
- Cost effective alternative
- New generation of mixed-signal ASICs achieves a high level of integration
- On average 30% fewer components than available plug and play solutions
Applications
The Skyper 12 press-fit offers the benefits of digital signal consistency whilst maintaining full performance. Ambitious applications such as medical, UPS, process control or industrial drives are securely powered.
Download the Skyper 12 Press-Fit Datasheet here
GD Rectifiers have been an authorised distributor for Semikron for over 50 years, stocking their complete range of: Diodes, IGBTs, IGBT Drivers, MOSFETs, Rectifier Bridges, SiC Hybrid Power Modules, SiC Power Modules, Thyristors, Thyristor Diode Modules, Heatsinks and Power Assemblies.
For further information on Semikron's range of semiconductors, power assemblies and heatsinks, please call: 01444 243 452 or email: .(JavaScript must be enabled to view this email address).