SEMIKRON
SEMIKRON are a leading manufacturer of semiconductor components, including power modules and systems. Based in Germany, SEMIKRON specialises in Discrete Semiconductors, Transistors, Diodes, Thyristors, IGBTs, MOSFETs, Thyristor Diode Modules, Pulse Transformers and Power Assemblies.
Drivers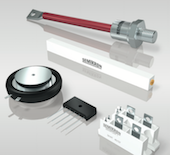 SEMIKRON thyristor modules are available in different packages, including: SEMIPACK, SEMiSTART, SEMIPOINT and SEMITOP. The various contact technologies include: soldered contact, bonded contact or pressure contact modules. SEMIKRON thyristor modules are available in a variety of dual and single topologies for almost all phase control or rectifier applications, providing voltages up to 2200V.
Heat Sinks & Hardware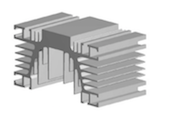 SEMIKRON offers a broad range of heat sinks, including forced and natural air cooling and water coolers. SEMIKRON's heat sinks are available for capsules, insulated base modules or IPMs.
Semiconductors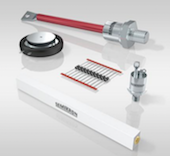 As one of the world's leading semiconductor manufacturers, SEMIKRON offers a large range of semiconductor components, including: diodes, IGBTs, MOSFETs, pulse transformers, rectifiers and thyristors.
Power Assemblies & Controllers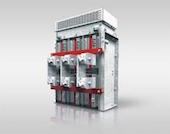 SEMIKRON offer more than 200 off-the-shelf stack assemblies worldwide, assemblies include: power semiconductor modules, gate driver, snubbers, protection, DC link capacitors and cooling. The product portfolio ranges from application samples for design-in support up to fully qualified stack assemblies. With direct access to core technology of semiconductors and electronics, SEMIKRON provide efficient designs for every application.
For further information on Semikron's product range please call: 01444 243 452 or email: .(JavaScript must be enabled to view this email address).
Semikron Ltd
SEMIKRON is a leading global semiconductor manufacturer. Semikron focuses on new markets such as renewable energy and hybrid vehicles as well as industrial applications such as electric drives, welding machines, lifts, power supplies, pumps, conveyor belts, trains and trams.
Further information:
You can find further information on Semikron Ltd using the following links:
Tel: 01444 243 452
Fax: 01444 870 722
Email: enquiries@gdrectifiers.co.uk