IXYS Semiconductors
IXYS is a world leading power semiconductor manufacturer, they offer a comprehensive range of MOSFETs, Fast Recovery Diodes (FREDs), SCR and Diode Modules, RF Systems, Rectifiers, Power Interface ICs, IGBTs and Thyristors, in discrete and integrated power modules.
IXYS products provide improved efficiency and reduced energy costs in a wide range of power system applications. IXYS Semiconductors, Integrated Circuits and RF Systems are used across numerous applications in the transportation, medical, industrial, telecommunications and computing industries. IXYS' semiconductors generate clean energy, control motors, improve automation, improve medical equipment and electrifies transportation.
GD Rectifiers are IXYS' Official UK Distributor, stocking a wide range of IXYS Semiconductor Components, Power Assemblies and Heatsinks. GD Rectifiers are the largest online stockist for IXYS IGBTs, Diodes, Thyristors and MOSFETs, with hundreds of IXYS products in stock now. GD Rectifiers provides design and technical support on IXYS components, offering products at the best prices with unrivalled fast delivery, making GD Rectifiers the UK's number one IXYS distributor.
View the complete IXYS product range here
For further information on the IXYS range, please call: 01444 243 452 or email .(JavaScript must be enabled to view this email address).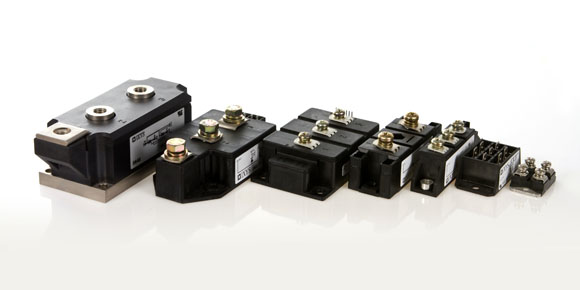 Power Semiconductors
IXYS' power MOS product lines include power metal-oxide semiconductor field effect transistors (MOSFETs), insulated gate bipolar transistors (IGBTs) and BIMOSFETs. IXYS' power MOSFETs are used in large power conversion systems and applications from 60 to 4,000 volts. Its IGBTs are used in alternating current motor drives, power systems and defibrillators. Bipolar products include rectifiers, thyristors and GTOs.

Diode & Thyristor Modules
IXYS manufacture world-leading Diode and Thyristor Modules, including: Single & Dual Diode Modules, Thyristor/Diode Modules, Single & Dual Thyristor Modules, Water Cooled Modules and AC Switches.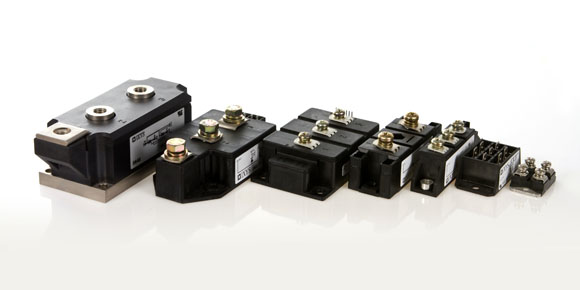 Thyristor Discretes
IXYS manufacture a large range of Thyristor Discretes, including: Phase Control Thyristors, Fast Switching Thyristors, Medium Voltage Thyristors, Gate Turn-Off Thyristors, Asymmetric Thyristors, Distributed Gate Thyristors, Pulse Thyristors and MOS Gated Thyristors.
View the complete IXYS Thyristor range here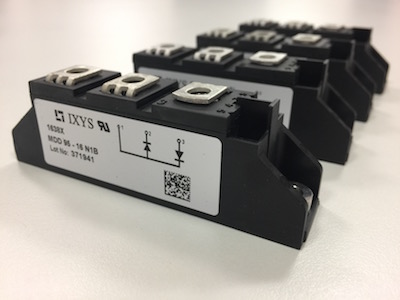 IGBTs & IGBT Modules
IXYS' extensive range of IGBTs are used across the automotive, electronics, medical and aviation industries. iXYS IGBTs include: XPT IGBT Modules, Converter/Brake/Inv (CBI) IGBT Modules, Six-Pack IGBT Modules, Full Bridge IGBT Modules, IGBT Modules in ISOPLUS i4-PAC, Phase-Leg IGBT Modules, Boost and Buck Chopper IGBT Modules, IGBT Modules in SWPD Package and IGBT AC Switches.
View the complete IXYS IGBT range here
View the complete IXYS IGBT Modules range here

MOSFETs
IXYS' wide range of MOSFETs include: H-Bridge MOSFET Modules, Phase-Leg MOSFET Modules, Trench Gate MOSFET Modules, Boost and Buck Configurations, Dual Switch Common Source MOSFET Modules, Single Switch MOSFET Modules and ISOPLUS-DIL Trench MOSFET Modules.
View the complete MOSFETs range here
IGBT & MOSFET Gate Drivers
IXYS' Integrated Circuit Division provide ultra-fast, high current IGBT and MOSFET Gate Drivers are optimised for high efficiency performance in motor drive and power conversion applications. With output current ratings of 1.5A to 30A, they are designed to switch the largest IGBTs and MOSFETs with minimum switching times and frequencies up to 10MHz. Depending on the output current rating, these gate drivers are offered in DFN (56), SOIC (54), Power SOIC (53), DIP (20), TO-220 (57) and TO-263 (58) packages. The "F" versions include one inverting driver and one non-inverting driver, "I" versions are inverters, "N" versions are non-inverters and "D" versions are non-inverters that include an enable function.
View the complete IXYS IGBT & MOSFET Gate Drivers range here
Rectifiers
IXYS manufacture an extensive range of Rectifiers, including: 1-Rectifier Bridges, 1-/3-Half & Full Controlled Bridges, 3-Rectifier Bridges, 3-Bridges with IGBT and Diode for Brake Unit, 3-Bridges with Fast Diodes & integrated Softstart Thyristor, 1 & 3 Phase High Voltage Rectifier Modules, 1-PFC Modules (1-Bridge + MOSFET Boost), 3-PFC Modules, Diode Bridges and Rectifier Diodes - Stud Types and Capsule Types.
View the complete IXYS Rectifier Diodes range here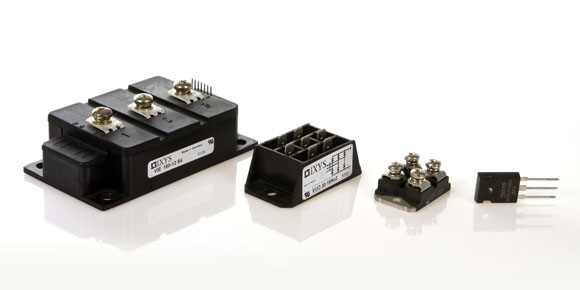 Green Energy
Wind Energy: IXYS supplies phase control devices, Wespack, for use in thyristor AC regulators to connect wind generator output to the electrical grid. IXYS' Press Pack IGBTs are utilised as the mast head converter/ inverter or the ground based synchronisation element.
Solar Energy: IXYS' solar products include diodes, solar cell arrays/cards for charging batteries in portable electronics, solar bit evaluation boards, Schottky rectifiers for solar cell generation systems and portable solar battery chargers.

View the complete IXYS Solar Range here.
For further information on all IXYS products email: .(JavaScript must be enabled to view this email address) or alternatively call: 01444 243 452.
IXYS
IXYS is a world leading manufacturer of power semiconductors, their product range includes: IGBTs, MOSFETs, Thyristors, Diodes and Semiconductor Accessories.
Further information:
You can find further information on IXYS using the following links:
Tel: 01444 243 452
Fax: 01444 870 722
Email: enquiries@gdrectifiers.co.uk