January 2018 - Littelfuse Acquires IXYS Corporation
Published on: 18/01/2018

On the 17th January, Littelfuse announced the completion of its acquisition of IXYS Corporation. IXYS is a global pioneer in the power semiconductor market with a focus on medium- to high-voltage power semiconductors across the industrial, communications, consumer and medical device markets.
Littlefuse has completed its acquisition of IXYS Corporation (including: IXYS Colorado, IXYS Power, IXYS Korea, IXYS LongBeach, IXYS Integrated Circuits Division, IXYS San Sebastian, IXYS UK Westcode, Zilog and MWT) and is moving forward with plans to market the power semiconductor technologies of both companies under the iconic IXYS brand. Littelfuse is a global leader in circuit protection with a long history in semiconductors and advancing platforms in power semiconductors, including silicon carbide technology. IXYS is renowned for groundbreaking development of industrial and automotive thyristor, rectifier, power MOSFET, IGBT and packaging technology. With the acquisition of IXYS, Littelfuse significantly expands the breadth of it's power semiconductor portfolio and strengthens their position and expertise within the market to enhance customer value.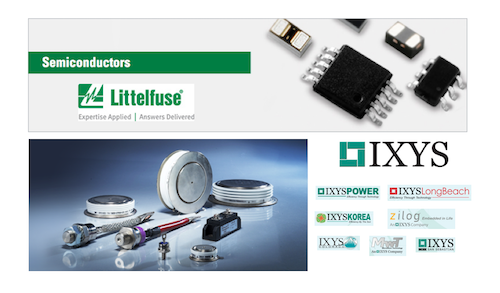 Littelfuse first announced they had entered in to an agreement with IXYS on 28th August 2017, confirming they would acquire all outstanding shares of IXYS in a cash and stock transaction. Littlefuse said the transaction represented an equity value of approximately $750 million and enterprise value of $655 million.
"Today marks a significant step forward in our company strategy to accelerate growth within the power control and industrial OEM markets," said Dave Heinzmann, President and Chief Executive Officer of Littelfuse.
"The combination of our companies brings together a broad power semiconductor portfolio, complementary technology expertise and a strong talent pool. Together, IXYS and Littelfuse form a stronger power control portfolio that promises to bring you more innovation, more reliability, more products and more services."

The transaction is expected to be immediately accretive to adjusted EPS. Littelfuse expects to achieve more than $30 million of annualised cost savings within the first two years after closing. The combination is also expected to create significant revenue synergy opportunities longer term, given the companies' complementary offerings and combined customer base.
"Together, IXYS and Littelfuse will leverage our collective technological capabilities, product portfolio, and sales channel access to create increased value for customers. Our customers will benefit from the breadth of the Littelfuse portfolio, which will provide enhanced, differentiated capabilities in more markets and geographies, delivering greater industry access and increased growth opportunities" said Neil LeJeune, Vice President of Sales at IXYS.
In conjunction with the close of the transaction, IXYS founder Dr. Nathan Zommer has been appointed to the Littelfuse Board of Directors, increasing the size of the board to nine members.
GD Rectifiers is the UK's leading official distributor for IXYS Corporation, we have been distributing their complete range of power semiconductors for over twenty years.
For further information on our IXYS portfolio please call us on: 01444 243 452 or email: .(JavaScript must be enabled to view this email address).