November 2020 - GD Rectifiers announces acquisition of Harmsworth Townley & Co Ltd
Published on: 04/11/2020
GD Rectifiers completes the acquisition of Harmsworth Townley & Co Ltd (Power Semiconductors Division)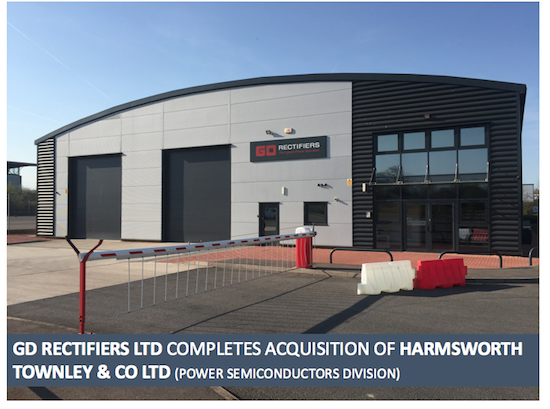 GD Rectifiers Ltd today has announced the completion of it's acquisition of Harmsworth Townley & Co Ltd (Power Semiconductors/Electronics Division), a UK distributor of high power semiconductors across the industrial, communications, consumer and medical device markets.
As part of the acquisition, GD Rectifiers has acquired the Harmsworth Townley & Co business, product portfolio, website and customer database.
Discussing the completion of the acquisition, effective from Wednesday 30th September 2020, Paul Bentley, Managing Director at GD Rectifiers said:
"Today marks a significant step forward for GD Rectifiers as we embark on an exciting new chapter and welcome customers from our friends Harmsworth Townley to join us along the way. We're excited to add to our extensive product portfolio and looking forward to what the months ahead will bring."
"We're one of the UK's favourite independent distributors and are looking forward to welcoming Harmsworth Townley's customers in to our family. We pride ourselves on our relationships with our customers, we know everything about them, some from humble beginnings, learning about the challenges they've faced along the way, to new pioneering company's providing innovative and state-of-the-art designs and the industry's leading household names that need no introduction.
We're committed to continuing to offer competitive pricing, expert technical support and fast delivery to all of our customers."
GD Rectifiers Ltd will leverage our collective technological capabilities, product portfolio, and sales channel access to create increased value for customers. Customers will benefit from the breadth of the Harmsworth Townley & Co portfolio, which will provide enhanced, differentiated capabilities in more markets, delivering greater industry access and increased growth opportunities.
Take advantage of shopping with GD Rectifiers
- Shop from over 170,000 components in stock ready for immediate dispatch
- Enjoy competitive pricing on power electronic components from some of the world's leading manufacturers
- Shop with us for fast, next day delivery
- Discuss our customised purchasing solutions and flexible order options – including call-off or scheduled
orders to ensure product availability, minimising disruption to your supply chain
- Call our team to discuss last-time buys and product obsolescence, we'll find a solution that's right for you
A special thank you to Clare, Glen, Nick and the team at Harmsworth Townley & Co Ltd that helped facilitate the acquisition, helping to make it a smooth transition. We appreciate the hard work and effort they've put in to the company for many years, and the customers for their continued support, we look forward to working with you all in 2021.
Discuss your requirements and how GD Rectifiers' products, services and manufacturing capabilities could help you today by contacting the team on: 01444 243 452 or email: .(JavaScript must be enabled to view this email address).
For further information on the acquisition, media outlets should contact GD Rectifiers' Marketing & Business Development Manager Sarah Langley: .(JavaScript must be enabled to view this email address).