KONČAR Electronics
KONČAR is a leading manufacturer of power electronics, protection, measurement and ripple control systems and devices for equipping complex plants in energetic, industry and transport.
Traction Converters and Subsystems
KONČAR manufacture a wide range of converters and liquid cooling systems suitable for trains, trams, coaches and other railway applications.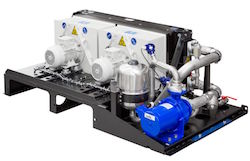 Power Electronic Building Blocks
For further information on KONČAR's product range please call: 01444 243 452 or email: .(JavaScript must be enabled to view this email address).
KONČAR
KONČAR is a leading manufacturer of electric equipment and electro-energetic plant. They specialise in development, engineering, production, testing and maintenance of industrial electronic devices and systems.
Their production program includes - converters and control systems for railway vehicles, DC and AC UPS, static excitation systems for synchronous machines, ripple control systems, protection relays, electric measurements devices and systems, process informatics, electronic modules production and switches, transformer and reactor production and mechanical parts production.
Further information:
You can find further information on KONČAR using the following links:
Tel: 01444 243 452
Fax: 01444 870 722
Email: enquiries@gdrectifiers.co.uk