Snubber Capacitors
GD Rectifiers is the UK's leading distributor for API Capacitors, stocking their complete range of AC, DC, energy storage, low temperature, snubber and track circuit capacitors.
API offer a wide range of specialised snubber capacitors that utilise a high grade of polyproplene film particularly suited to high peak current and surge voltage applications, with the addition of aluminium foil electrodes and silicon fluid impregnant which provides excellent thermal characteristics and long life together with self-healing properties. API's snubber capacitors are also used for GTO, IGCT and various other thyristor devices.
Together with API, GD Rectifiers has the ability to design and manufacture both standard and customised snubber capacitors with various current, voltage, size, mass and terminations in mind. They work with customers on bespoke requirements, bringing their product design to life.
Snubber capacitors are used in a wide range of applications, including: static/non-static drives, power electronics. power transmission, rail, electric/hybrid vehicles and converters.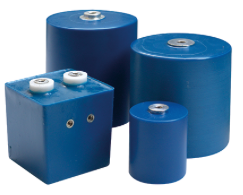 Snubber Capacitor Features
° Long life and high reliability
° Self-healing technology
° Oil filled or dry
° Insulated cases
° UV resistance, halogen free, low smoke and flame retardant materials
Typical Characteristics
Rated Capacitance (C):
0.01 to 10

μ

F

Peak Repetitive Voltage (UN):
500 to 10,000V
Continuous RMS Current (Imax):
10 to 120Arms
Frequency (fp):
100 to 20,000Hz
Ambient Temperature (0amb):
-40 to +85°C
Case Materials:
Insulated
Termination:
Threaded M6-M8 Brass
Related Standards:
BS EN 61071, BS EN 61881
View Snubber Capacitors Datasheet
For further information on Snubber Capacitors please call: 01444 243 452 or email: .(JavaScript must be enabled to view this email address).
API Capacitors
API Capacitors is the UK's leading designer and manufacturer of high quality power capacitors for power electronic applications.
Their extensive product range of filter, snubber and energy storage capacitors services the markets of traction, industrial drives, power conditioning and avionics, together with discharge capacitors for medical, plasma and pulsed power applications.
API Capacitors prides itself on working alongside its customers, tailoring the product correctly to its specific application so it performs exactly as required with total reliability.
Further information:
You can find further information on API Capacitors using the following links:
Tel: 01444 243 452
Fax: 01444 870 722
Email: enquiries@gdrectifiers.co.uk