Rotating Diode Assemblies
Ocram Power Electronics offer a wide range of Rotating Diode Assemblies in six-pulse bridge connection for brushless A.C. generators with an Id range: 30A – 300A.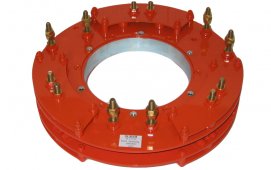 Typical Applications include: Rotating UPS, Brushless A.C. Generators, Alternators, Wind Power Systems, Hydro Energy, Rail and Naval Transport, Aeroportual Equipments, Hospital Sub-stations and Energy Recovery in Hybrid and e-mobility.
Technical Specs
> Rotating speed: 1500rpm
> Id = 30A ÷ 300A
> Vrrm = 800V ÷ 200V
> Low Vf
> Reduced overall dimensions
The full range of Rotating Diode Assemblies are available in: RS132, RS170, RS260, RS261, RS310 and Tandem.
GD Rectifiers are able to design and manufacture customised rotating diode assemblies to suit most applications.
For further information on Rotating Diode Assemblies, please call: 01444 243 452 or email: .(JavaScript must be enabled to view this email address).
Ocram Power Electronics
Ocram Power Electronics has worked in the power electronics sector since 1999 and today produces and distributes both components and assemblies used in the energy, aeronautical, naval, electro-medical (laser), wind power and railway sectors on a worldwide scale. Quality and innovation have long been Ocram's primary objectives.
Further information:
You can find further information on Ocram Power Electronics using the following links:
Tel: 01444 243 452
Fax: 01444 870 722
Email: enquiries@gdrectifiers.co.uk