Inductors
Sirio offers a wide range of soft ferrite, amorphous and nanocrystalline laminations and powder inductors designed for high frequency applications. Inductors are usually employed as DC output stage chokes, but are also used for applications that require power factor correction filters and resonance tanks for soft switching converters.
Sirio's inductors are often utilised in industrial applications that require dedicated inductors which is why they offer a customised choke development service instead of a standard catalogue. Sirio's bespoke design and manufacturing facility for indictors and chokes offers high quality, durable components that are competitively priced.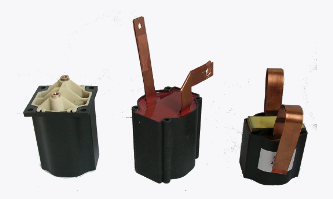 Soft Ferrite Cores
Soft ferrite is the most popular and cost effective material used in high frequency applications.
In high frequency power conversion system ferrite materials have saturation flux in the range of 0,3¸0,5 Tesla and some thousands of relative permeability. Therefore, ferrite materials have quite low saturation flux, that is the most critical limit for inductive components, especially in case of high DC currents or high overcurrent risk. Ferrite materials for power application have the great advantage of low losses level on a wide frequency range.
Amorphous and Nanocrystalline Laminated Cores
Amorphous and nanocrystalline laminations are obtained by a special rapid quenching technology. Typical thicknesses of those laminations are few tens of μm. Amorphous cores are suitable for output inductors, when high DC current, low ripple current, extremely compact dimensions. High saturation flux level is suitable for high currents and low ripple current doesn't cause critical core losses.
Nanocrystalline cores have vary low losses, even for high variation of magnetic flux, so they can be used for switching transformers too.
Powder Cores
Powder cores differ in chemical composition. Powder cores are pressed with an organic or inorganic binder, that is responsible for storage of energy. Each material, identified by the producer with a code or a commercial name, possesses its own characteristics in terms of permeability, saturation flux, specific losses. They are typically very stable with the temperature and they can be used in critical environment applications. Powder cores are more expensive than ferrite cores, but normally cheaper than amorphous and nanocrystalline ones.
For further information on Inductors please call: 01444 243 452 or email your enquiry to: .(JavaScript must be enabled to view this email address).
Sirio
Sirio is a leading manufacturer of electromagnetic components for applications in industrial electronics. They manufacture a wide range of products including: Inductors and Chokes, PFC and Power Capacitors, Pulse Transformers, Current Transformers, HF & Pulse Transformers, Current Transducers and Voltage Transducers.
Further information:
You can find further information on Sirio using the following links:
Tel: 01444 243 452
Fax: 01444 870 722
Email: enquiries@gdrectifiers.co.uk