Water Cooled Heatsinks
GD Rectifiers offers a range of high quality, low cost water coolers for isolated base thyristor, diode and IGBT modules.
They are easily mounted for interconnection in to various power circuit formats and are available with or without water connectors and high quality tubing and are pressure tested up to 100psi / 7 bar as standard.
GD Rectifiers' water cooled heatsinks are highly efficient and provide reliable thermal performance for high power modules. Water cooled heatsinks are a popular choice for engineers today, because of their many advantages over using air cooled heatsinks.
Advantages of using Water Cooled Heatsinks
- Water has higher thermal conductivity than air
- Water has a higher specific heat capacity
- Water can move heat faster than air
- Water can absorb heat before it starts to feel hot
GD Rectifiers' water cooled heatsinks are used in a wide range of applications: transportation, lasers, medical equipment, electronic equipment for defense and radio transmitters.
View Water Cooled Heatsink Datasheet
Cold Plates
GD Rectifiers can offer customer specific cold plates designed for diode, thyristor, MOSFET, and IGBT isolated modules, using innovative machining techniques to offer the most cost effective cooling solutions for both oil and water.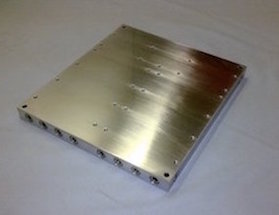 GD Rectifiers' range of cold plates specialise in the circulation of liquid and are designed for applications with very high thermal loads.
GD Rectifiers Ltd
GD Rectifiers design and manufacture Selenium and Silicon Rectifiers, Suppressors, Converters, Inverters and Regulator Products for industrial power control applications.
They are the UK's leading Distributor of power electronic components and hold extensive stock of Diodes, Thyristors, IGBTs and MOSFETs from the world's leading semiconductor manufacturers.
Further information:
You can find further information on GD Rectifiers Ltd using the following links:
Tel: 01444 243 452
Fax: 01444 870 722
Email: enquiries@gdrectifiers.co.uk