Busbars for Modules
GD Rectifiers offers a wide range of aluminium busbars for various isolated modules (typically 20A-1400A) allowing the user to interconnect and make various power circuits and configurations.
GD Rectifiers' range of busbars are designed with optimal dimensions and pitch to assist power distribution on heatsinks. They offer four module types in five different circuit options with lengths ranging from 32mm - 279mm.

Common commercial and industrial busbars are used in the following applications: power supply units, data centres, hospitals, factories, universities and used for interconnecting rectifiers, converters and regulators.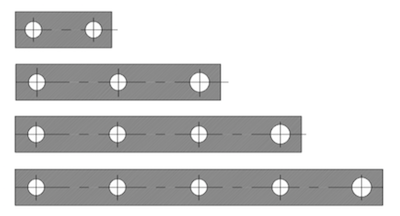 For further information on the Busbar range please call: 01444 243 452 or email: .(JavaScript must be enabled to view this email address).
GD Rectifiers Ltd
GD Rectifiers design and manufacture Selenium and Silicon Rectifiers, Suppressors, Converters, Inverters and Regulator Products for industrial power control applications.
They are the UK's leading Distributor of power electronic components and hold extensive stock of Diodes, Thyristors, IGBTs and MOSFETs from the world's leading semiconductor manufacturers.
Further information:
You can find further information on GD Rectifiers Ltd using the following links:
Tel: 01444 243 452
Fax: 01444 870 722
Email: enquiries@gdrectifiers.co.uk