Wind Power
GD Rectifiers Assemblies
GD Rectifiers' experience in the wind market enables them to work closely with companies that service and repair turbines. They have experience with the AN BONUS wind turbine range that is now owned by Siemens. GD Rectifiers have designed retro fit solutions for the AN BONUS 30 AC regulators which are in operation across the UK and Europe.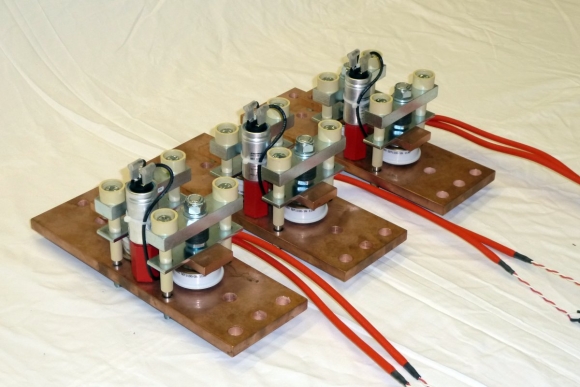 Semikron SkiiP 4th Generation
The success story of the SKiiP family has progressed with the advancement of the wind power market. The 4th generation SKiiP modules are a further improvement of the powerful SKiiP series. The mainstay of SKiiP4 modules is the wind power sector, with approximately 57 GW of the 122 GW of wind power installed worldwide (at the end of 2009) featuring SEMIKRON solutions, in many cases SKiiP technology. Besides wind power applications, SKiiP modules can also be found in elevators, solar power and railway applications.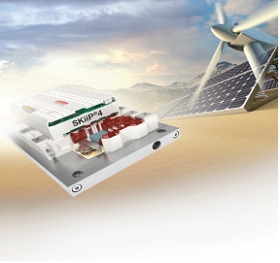 Product range
SKiiP4 is available for 1200V and 1700V. In both of these voltage classes, SKiiP4 modules comes in the topologies 3GB 1800A 2400A and new to the SKiiP Family is - 6GB 3600A.
SKiiP4 is the most powerful IPM on the market. SKiiP4 modules enable the production of converter units with outputs of up to 2.1 MW. The power semiconductors used in SKiiP4 modules can be operated at a junction temperature of up to 175 °C.
To make sure these components can be reliably used at these temperatures, the power circuitry is 100% solder-free. Instead, sinter technology is used to create a sintered silver layer in place of the solder layer that can limit the service life of power modules. Reliability during active and passive thermal cycling is greatly improved. A further benefit is the better load cycling capability as compared with solder-based modules. The integrated gate driver in the SKiiP4 sets new standards on the reliability and functionality fronts. The digit driver guarantees safe isolation between the primary and secondary side for both switching signals and all measurement parameters, such as temperature and DC link voltage. This means the user no longer has to introduce complex and costly circuit components to provide safe isolation. For the first time, the SKiiP driver features a CANOpen diagnosis channel for the integration and additional functions.
IXYS Press Pack IGBTs
Press-pack IGBT's offer a convenient path to upgrade existing GTO thyristor based power electronics systems. In the majority of applications, it is possible to retain the existing power-circuits, control circuits and the mechanical arrangement by simple replacing the power switches plus associated gate drivers.

Press-pack IGBTs are now gaining significant market share in the high performance medium voltage drive sector in the 2MW to 30MW range, they offer all of the benefits of conventional IGBTs and more while maintaining the high reliability levels associated with press-pack devices in these systems.
View the IXYS Press-Pack IGBTs Datasheet here.
Phase Control Thyristors - GD Rectifiers and IXYS UK Westcode
Devices with voltage ranges from 600V to 4500V are available, making them suitable for applications with line voltages from 230V to over 1000V (higher voltage applications are now served by our range of medium voltage thyristors).

IXYS UK Westcode is a leading supplier of phase control products into demanding markets such as industrial DC drives, induction melting, marine/rail propulsion systems, wind power converters, electrochemical power supplies and soft starters. The Wespack outline is a new concept in phase control thyristors for applications requiring devices rated to 2200V. It gives the maximum power rating for weight and volume without compromising on quality and reliability. It also gives the maximum current rating and lowest thermal resistance for the package size.
GD Rectifiers stocks a large range of thyristors that are optimised to give low conduction losses and are primarily intended for applications with line frequencies up to 400Hz.
For further information on the Thyristors range click here.