Thermal Trip Protection
Thermal trips supplied by GD Rectifiers provide extensive overtemperature protection for a wide range of semiconductor components.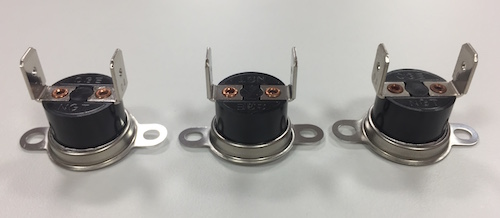 Thermal trips are used by most circuit breakers to prevent overtemperature.
GD Rectifiers offers a wide range of circuit protection devices and solutions, their range of thermal trips are available in both open and closed formats and have an operational range of up to 230°C.
GD Rectifiers stock a wide range of temperature ratings and configurations, for further information please call: 01444 243 452 or email: .(JavaScript must be enabled to view this email address).
GD Rectifiers Ltd
GD Rectifiers design and manufacture Selenium and Silicon Rectifiers, Suppressors, Converters, Inverters and Regulator Products for industrial power control applications.
They are the UK's leading Distributor of power electronic components and hold extensive stock of Diodes, Thyristors, IGBTs and MOSFETs from the world's leading semiconductor manufacturers.
Further information:
You can find further information on GD Rectifiers Ltd using the following links:
Tel: 01444 243 452
Fax: 01444 870 722
Email: enquiries@gdrectifiers.co.uk