Fuse Mountings and Microswitches
GD Rectifiers are a leading distributor of circuit protection devices and offer a wide range of Bussmann fuses including: miniature fuses, semiconductor fuses, high voltage fuses, DC fuses and fuse gear. We also stock Bussmann modular fuseblocks and Busbar fuse mounts.
Bussmann fuseblocks feature a modular design that slows assembly of the required poles at point of use. Available for Class H (K), J and R fuses, these blocks have features and accessories that add versatility, reduce labour and enhance safety of any panel design.
The fuseblocks are available in 1, 2 and 3-pole configurations and feature the smallest width dimension in the market, consuming minimal panel space.
Modular Fuseblocks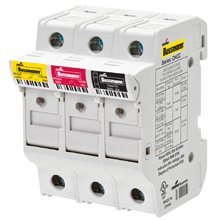 0-700V 400 Amps View Datasheet
0-1250V 700 Amps View Datasheet
0-2500V 400 Amps View Datasheet
0-5000V 400 Amps View Datasheet
Busbar Supports & Fuse Mounts
Hexagonal DMC Insulators with encapsulated M6, M8 and M10 inserts.
Other sizes and optional male studs are available on request.
Please click here to view the Busbar Datasheet.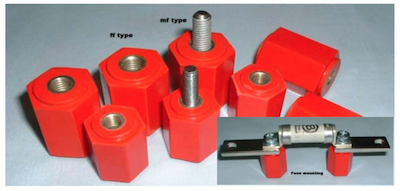 For further information on all Modular Fuseblocks or Fuse Mounts please email your enquiry here or call the office on: 01444 243 452.
Cooper Bussmann
Cooper Bussmann are a division of Cooper Industries and are a leading Manufacturer of Circuit Protection Solutions. The product range includes fuses that conform to various industrial standards such as BS, IEC, DIN and many others. They manufacture suitable fuse holders allowing for easy access to replace blown fuses. They also supply suitable microswitches and trip indicators within their range.
Further information:
You can find further information on Cooper Bussmann using the following links: