Energy Storage Capacitors
API Capacitors manufacture standard and customised Energy Storage Capacitors with varying current, voltage, size, mass and terminations. Elements are wound on the latest precision edge controlled automatic winding machines. High conductivity copper is used for low resistance internal connections.
API Capacitors are finished in powder coated corrosion free metal or insulated cases and filled with an environmentally safe oil or dry leak free resin.
Energy Storage Capacitors are used predominantly across the Military, Medical and Industrial markets.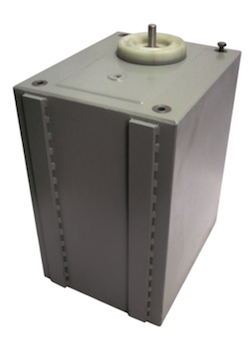 Typical Applications
Oceanography - subsea surveys, sparkers and boomers
Power Electronics - welding, forming, magnetisers, demagnetisers and PFN's
Research - particle accelerators, lasers
Testing - lightning simulation and high voltage capacitor banks
Defence - range finders, railguns, radar, missile systems and EMP
Food Industry - UV sterilisation
Energy Storage Capacitor Features
° High reliability
° Controlled self-healing technology
° Oil filled or dry resin filled
° Metal or insulated cases
° UV resistance, halogen free, low smoke and flame retardant materials
Typical Characteristics
Rated Capacitance (C):
0.01 to 30,000

μ

F

Peak Repetitive Voltage (UNDC):
100 to 50,000V
Energy:
100 to 100,000J
Life:
1000 to 10

9

Shots
Ambient Temperature (0amb):
-40 to +85°C
Case Materials:
Steel, Stainless Steel, Aluminium and Various Insulated Materials
Termination:
Threaded M5-M16 Copper/Brass, Ceramic/Polymer insulators, Busbar, Cable and Laminated connections
Related Standards:
BS EN 61071
View Energy Storage Capacitor Datasheet
For further information on Energy Storage Capacitors please call: 01444 243 452 or email: .(JavaScript must be enabled to view this email address)
API Capacitors
API Capacitors is the UK's leading designer and manufacturer of high quality power capacitors for power electronic applications.
Their extensive product range of filter, snubber and energy storage capacitors services the markets of traction, industrial drives, power conditioning and avionics, together with discharge capacitors for medical, plasma and pulsed power applications.
API Capacitors prides itself on working alongside its customers, tailoring the product correctly to its specific application so it performs exactly as required with total reliability.
Further information:
You can find further information on API Capacitors using the following links:
Tel: 01444 243 452
Fax: 01444 870 722
Email: enquiries@gdrectifiers.co.uk