TVSS Fuses
Littelfuse's Varistor Protection (LVSP) fuses are designed for the protection of TVSS products.
The LVSP series has been designed to survive the 8x20 µs lightning surges described in various standards without opening which allows the TVSS to perform the necessary suppression.
The LVSP fuses are available in multiple mounting configurations (cartridge, bolt-in, PC board mount), provide short circuit protection in TVSS systems and complements the Littelfuse line of overvoltage products. Littelfuse's LVSP fuses are used in Transient voltage surge suppression products and surge arrestors.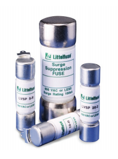 Voltage rating: 600Vac
Interrupting rating: 200kA
Ratings: 5-100ka 8 x 20 µs surge withstand
For further information on Littelfuse's TVSS Fuses please call us today on: 01444 243 452 or email: .(JavaScript must be enabled to view this email address).
Littelfuse
Littelfuse is a global leader in circuit protection, power semiconductors and power control and sensing platforms. The company was founded in 1927 and acquired IXYS Corporation in 2018.
Further information:
You can find further information on Littelfuse using the following links:
Tel: 01444 243 452
Fax: 01444 870 722
Email: enquiries@gdrectifiers.co.uk