Thermal Trips
GD Rectifiers offer a range of surface mount bimetallic thermal trips designed for protection of power semiconductors against overtemperature.
The bimetallic element of the thermal trip is made using two different pieces of metal bonded together, which is heated by the load current. The metals expand at different rates once they are heated which then causes the bimetallic element to bend which is used to trip the circuit breaker.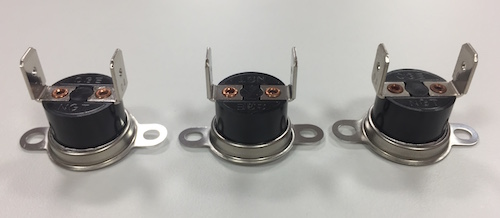 The range of thermal trips available range from 40-230°C and suit a large range of applications and mountings, heaters, cooling fans and heatsinks.
For further information on thermal trips please call: 01444 243 452 or email: .(JavaScript must be enabled to view this email address).
GD Rectifiers Ltd
GD Rectifiers design and manufacture Selenium and Silicon Rectifiers, Suppressors, Converters, Inverters and Regulator Products for industrial power control applications.
They are the UK's leading Distributor of power electronic components and hold extensive stock of Diodes, Thyristors, IGBTs and MOSFETs from the world's leading semiconductor manufacturers.
Further information:
You can find further information on GD Rectifiers Ltd using the following links:
Tel: 01444 243 452
Fax: 01444 870 722
Email: enquiries@gdrectifiers.co.uk