Telcom Alarm Indicating Fuses
Littelfuse's 481 Series alarm indicating fuses reduce down time by immediately pinpointing the blown (open) circuit whilst triggering an LED or audio alarm. The 482 Series mating fuse holders are required when using the 481 Series alarm indicating fuses.
All 481 Series fuses are available as Littelfuse's original design and the 2-20 amp range is also now available as a RoHS compliant option (use the "P" designator when ordering).
The 481 Series alarm indicating fuses feature colour-coded indicator flags to highlight ampere rating, the body is constructed of black polyphenylene sulphide with UL 94-V-0 flammability rating. Contacts are made of bright alloy-plated beryllium copper, are RoHS compliant and have a clear plastic lens option available for additional safety.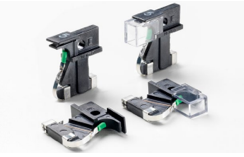 Voltage Rating: 125Vac/125Vdc
Ampere rating: 0.18-20A
Interrupting rating: 40-460A
For further information on Telcom Alarm Indicating fuses please call: 01444 243 452 or email: .(JavaScript must be enabled to view this email address).
Littelfuse
Littelfuse is a global manufacturer of leading technologies in circuit protection, power control, and sensing. Littelfuse products are found in automotive and commercial vehicles, industrial applications, data and telecommunications, medical devices, consumer electronics, and appliances. They partner with customers to design, manufacture, and deliver innovative, high-quality solutions, for a safer, greener, and increasingly connected world—everywhere, every day.
Further information:
You can find further information on Littelfuse using the following links:
Tel: 01444 243 452
Fax: 01444 870 722
Email: enquiries@gdrectifiers.co.uk