TD and Chip Resettable PTCs
Littelfuse's TD (terminal devices) and Chip Polyswitch devices are designed for use in small and medium automotive motor applications such as power windows, door lock motors and lumbar pump motors. These devices help eliminate problems caused by abnormal function or misuse, such as a motor stall or short circuit.
The TD and chip devices are normally custom made to fit in to motor housing. By mounting them close to the motor windings, they will trip more quickly when the motor windings are hot and more slowly when they are cold.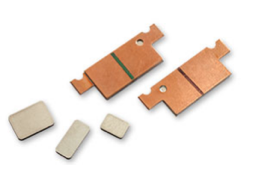 Features
- Solid state, no moving parts, no on-off cycling under fault conditions
- Shock and vibration resistant
- Custom designs enable flexibility in form factor and performance
- Available in voltage ratings from 16 to 30Vdc (high voltage capability up to 60Vdc in some form factors)
- Available in a resistance range of 10 to 100 milliohms
Benefits
- Resettability helps reduce warranty costs
- Scalable technology allows for greater design flexibility
- Smaller motor temperature increase compared to circuit breakers in stall condition
- Reduced electromagnetic interference
- Eliminate arcing due to moving contacts
Applications
- Window lift motors
- Door lock actuators
- Trunk actuators
- Fuel door actuators
- Lumbar support motors
- Seat motors
- Sunroof motors
- Convertible top actuators
- Wire protection
For further information on TD & Chip Resettable Fuses please call: 01444 243 452 or email: .(JavaScript must be enabled to view this email address).
Littelfuse
Littelfuse is a global manufacturer of leading technologies in circuit protection, power control, and sensing. Littelfuse products are found in automotive and commercial vehicles, industrial applications, data and telecommunications, medical devices, consumer electronics, and appliances. They partner with customers to design, manufacture, and deliver innovative, high-quality solutions, for a safer, greener, and increasingly connected world—everywhere, every day.
Further information:
You can find further information on Littelfuse using the following links:
Tel: 01444 243 452
Fax: 01444 870 722
Email: enquiries@gdrectifiers.co.uk