Solar Rated Varistors
Littelfuse offers a range of radial leaded varistors (MOVs) and surface mount varistors used in high current relays, solenoids, motor drives and AC distribution panels.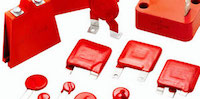 Littelfuse's LA varistor series of transient voltage surge suppressors are radial leaded varistors designed to be operated continuously across AC power lines. They are UL recognised, require very little mounting space and are offered in various standard lead forms.
The SM20 device is a surface-mount metal oxide varistor for use in applications requiring hi-energy and transient current capability. The AC rated parts are designed to operate continuously across AC power lines, whilst the DC parts are suitable for automotive applications. This series features a Nylon molded package with folded tin plated metal leads for soldering to board. The SMD series is based on radial 20mm internal varistor element with similar characteristics to Littelfuse's LA/ZA series of varistors.
The SM7 device is a plastic-encapsulated surface mount MOV in a PPS material molded package with tin-plated terminal which is fully qualified in lead-free soldering and available for both reflow and wave soldering process. Littelfuse's SM7 is constructed with 7mm varistor element disc and has a maximum operating ambient temperature of 85°C with a peak pulse current of 1200A.
LA
Line Voltage Operation Radial Leaded Varistor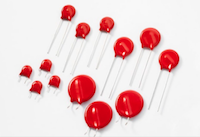 Size: 07mm, 10mm, 14mm, 20mm, 7mm
VMAX AC (V): 130, 140, 150, 175, 230, 250, 275, 300, 320, 385, 420, 460, 480, 510, 575, 625, 660, 680, 1000
VMAX DC (V): 175, 180, 200, 225, 300, 330, 369, 405, 420, 505, 560, 615, 640, 675, 730, 825, 850, 875, 1200
SM20
Surface Mount Varistor for use in applications requiring hi-energy/transient current capability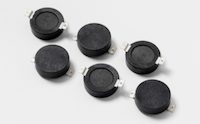 Polarity: Bi-directional
(ITM 1xAmps (A): 2000, 6500
MSL: Level 1
SM7
Surface Mount Varistor for AC Line Protection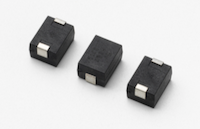 Polarity: Bi-directional
(ITM 1xAmps (A): 1200
Co tyP (PF): 45, 50, 55, 60, 65, 70, 80
View Littelfuse's complete range of Varistors here.
For further information on Littelfuse's range of Solar Rated Varistors, please call GD Rectifiers on: 01444 243 452 or email: .(JavaScript must be enabled to view this email address).
Littelfuse
Littelfuse is a global manufacturer of leading technologies in circuit protection, power control, and sensing. Littelfuse products are found in automotive and commercial vehicles, industrial applications, data and telecommunications, medical devices, consumer electronics, and appliances. They partner with customers to design, manufacture, and deliver innovative, high-quality solutions, for a safer, greener, and increasingly connected world—everywhere, every day.
Further information:
You can find further information on Littelfuse using the following links:
Tel: 01444 243 452
Fax: 01444 870 722
Email: enquiries@gdrectifiers.co.uk