Low Resistance
Littelfuse offers overcurrent protection from their range of two low resistance fuses, providing improved battery life with the new LoRHo.
Low Rho SMD
Littelfuse's PolySwitch low resistivity SMD (surface-mount device) I versatile and well suited for general applications that require low power dissipation, high environmental reliability and have space constraints.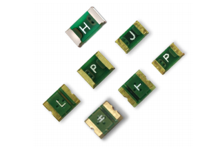 These devices can help provide both overcurrent and overtemperature protection for battery pack PCMs (protection circuit modules). The resettable element ensures the device will "trip" and protect the application during the faults and regain the functions once the error is removed.
They are used in various applications, including: mobile and smart phones, wearable devices, portable game consoles, tablets and eBooks, portable printer and projectors and USB connection ports.
Features
- Current ratings up to 6A
- Maximum electrical rating: 6VDC and short circuit current 50A
- Ultra low internal resistance
- Automatic reset
- RoHS Compliant
LoRHo
Littelfuse's LoRho surface mount PPTC (polymer positive temperature coefficient) devices provide overcurrent protection for applications where ultra low internal resistance, ultra low voltage drop and automatic resettable protection are required. This new series of fuses allow a higher hold current in a smaller factor and lower profile in comparison to a standard PPTC.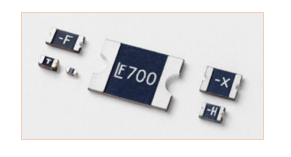 Littelfuse's LoRHo surface mount series offers ultra low internal resistance while maintaining the high level electrical characteristics and performances of standard PPTC products. All devices are UL recognised and TUV approved with a maximum fault current of 50A.
These devices are available in 0402 and 2920 sizes with a hold current ranging from 100mA to 7A. Littelfuse's 0402 size LoRho SMD PPTC is the smallest size surface mounted PPTC device available in the market.
Littelfuse's LoRho surface mount PPTC are suited to a wide range of applications including: USB peripherals – USB 3.0/2.0 ports, smart phones, tablet and notebook PCs, e-readers, LCD/LED HDTV, computer periperals, digital and video cameras, hard disk drives and game consoles.
Features
- Ultra low internal resistance
- Miniature size saves board saves board space
- Fast response to fault currents
- Compatible with high temperature solders
- Broadest range of hold current ratings (100mA to 7A)
- RoHS Compliant, lead free and halogen free
For further information on Littelfuse's Low Resistance Fuses please contact: 01444 243 452 or email: .(JavaScript must be enabled to view this email address).
Littelfuse
Littelfuse is a global manufacturer of leading technologies in circuit protection, power control, and sensing. Littelfuse products are found in automotive and commercial vehicles, industrial applications, data and telecommunications, medical devices, consumer electronics, and appliances. They partner with customers to design, manufacture, and deliver innovative, high-quality solutions, for a safer, greener, and increasingly connected world—everywhere, every day.
Further information:
You can find further information on Littelfuse using the following links:
Tel: 01444 243 452
Fax: 01444 870 722
Email: enquiries@gdrectifiers.co.uk