LED Heatsinks
GD Rectifiers is the UK's leading manufacturer of LED heatsinks; they have a vast range of experience in designing and manufacturing heatsinks for LED applications, utilising extruded and cast solutions.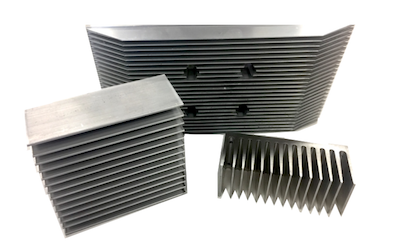 They offer a wide range of LED heatsinks designed to cool LED lighting devices by absorbing and dispersing excess heat away from LED diodes, into the heatsink. GD Rectifiers' LED solutions helps improve performance and the lifetime of LED lights.
GD Rectifiers work directly with customers on the design and build of customised heatsink solutions, providing technical advice and support every step of the way.
GD Rectifiers are able to design initial prototypes, pre-production samples and a full production run for most LED lighting heatsinks.
Call our technical team today on: 01444 243 452 to discuss your requirements.
GD Rectifiers Ltd
GD Rectifiers design and manufacture Selenium and Silicon Rectifiers, Suppressors, Converters, Inverters and Regulator Products for industrial power control applications.
They are the UK's leading Distributor of power electronic components and hold extensive stock of Diodes, Thyristors, IGBTs and MOSFETs from the world's leading semiconductor manufacturers.
Further information:
You can find further information on GD Rectifiers Ltd using the following links:
Tel: 01444 243 452
Fax: 01444 870 722
Email: enquiries@gdrectifiers.co.uk