IXYS SiC Schottky Diodes
IXYS offers silicon carbide solutions based on it's own ISOPLUS technology with DCB (Direct Copper Bonded) substrates and transfer molded packages. These packages allow for dense layouts with the benefit of reduced current loops and low stay inductance.
IXYS' silicon carbide schottky diodes offer superior switching performance compared to existing discrete SiC solutions, ISOPLUS packages offer a low thermal resistance while providing integrated isolation up to 3000V and very high thermal and power cycling capability.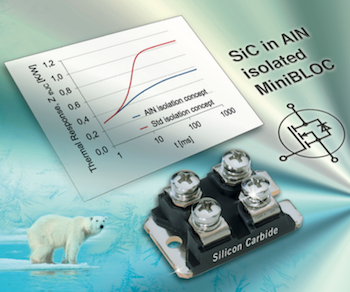 IXYS silicon carbide schottky diodes provides designers with the choice to select the right product for performance and cost efficiency.
IXYS can generate customer specific SiC products on request, for further information please contact us on: 01444 243 452 or email: .(JavaScript must be enabled to view this email address).
No Reverse Recovery
Double Boost
Type




Circuit and Technology

Vdss

max

V

ID80

TC = 80°C

A

Rds (on)

max

Ω

IF80

Boost Diode

A

MKH 17RP650DCGLB
Superjunction MOSFET C + SiC
650
2 x 16
0.11
2 x 16
For further information on IXYS' silicon carbide schottky diodes please call us on: 01444 243 452 or email: .(JavaScript must be enabled to view this email address).
IXYS
IXYS is a world leading manufacturer of power semiconductors, their product range includes: IGBTs, MOSFETs, Thyristors, Diodes and Semiconductor Accessories.
Further information:
You can find further information on IXYS using the following links:
Tel: 01444 243 452
Fax: 01444 870 722
Email: enquiries@gdrectifiers.co.uk