French Cylindrical Fuses
Littelfuse offer a good range of french cylindrical fuses up to 690Vac and are used to protect cables against short-circuits, and time-lag (aM) fuses are used for protection of motors.
CY Series
Littelfuse French Cylindrical style semiconductor fuses are an extension to the LA70QS series. They offer a solid-fill design with high interrupting ratings and an optional striker for visual or remote blown fuse indication.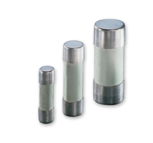 Amps: 0.5, 1, 2, 4, 6, 8, 10, 12, 16, 20, 25, 32, 50, 80, 100
Vac (V): 400, 500, 690
Interrupting rating: 120000A@400Vac, 120000A@500Vac, 80000A@690Vac
For further information on Littelfuse's French Cylindrical Fuses please call us today on: 01444 243 452 or email: .(JavaScript must be enabled to view this email address).
Littelfuse
Littelfuse is a global leader in circuit protection, power semiconductors and power control and sensing platforms. The company was founded in 1927 and acquired IXYS Corporation in 2018.
Further information:
You can find further information on Littelfuse using the following links:
Tel: 01444 243 452
Fax: 01444 870 722
Email: enquiries@gdrectifiers.co.uk