French Cylindrical Fuses
Littelfuse offer a good range of french cylindrical fuses up to 690Vac and are used to protect cables against short-circuits, and time-lag (aM) fuses are used for protection of motors.
CY Series
Littelfuse French Cylindrical style semiconductor fuses are an extension to the LA70QS series. They offer a solid-fill design with high interrupting ratings and an optional striker for visual or remote blown fuse indication.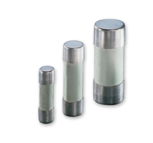 Amps: 0.5, 1, 2, 4, 6, 8, 10, 12, 16, 20, 25, 32, 50, 80, 100
Vac (V): 400, 500, 690
Interrupting rating: 120000A@400Vac, 120000A@500Vac, 80000A@690Vac
For further information on Littelfuse's French Cylindrical Fuses please call us today on: 01444 243 452 or email: .(JavaScript must be enabled to view this email address).
Littelfuse
Littelfuse is a global manufacturer of leading technologies in circuit protection, power control, and sensing. Littelfuse products are found in automotive and commercial vehicles, industrial applications, data and telecommunications, medical devices, consumer electronics, and appliances. They partner with customers to design, manufacture, and deliver innovative, high-quality solutions, for a safer, greener, and increasingly connected world—everywhere, every day.
Further information:
You can find further information on Littelfuse using the following links:
Tel: 01444 243 452
Fax: 01444 870 722
Email: enquiries@gdrectifiers.co.uk