Cooper Bussmann Fuses
GD Rectifiers works closely with Cooper Bussmann to stock and support a wide range of semiconductor fuses.
Formerly Cooper Bussmann, now known as Eaton Bussmann are a leading manufacturer of circuit protection solutions. Eaton develops and manufactures critical circuit protection, power management and electrical safety products designed to provide innovative circuit and power electronics protection, serving the commercial, data center, electrical vehicle, food and beverage and other markets.
The most popular Eaton Bussmann products stocked by GD Rectifiers are:
- HRC High Speed Semiconductor Fuses
- 240 – 690V BS88 range
- 690-1000-1250V Square Body Flush End Contact range
However, GD Rectifiers can supply the entire Bussmann by Eaton portfolio of fuses.
Battery Storage Fuse Links
Eaton's Bussmann series battery storage fuse links have been designed in accordance with IEC 60269-7 and provide low power, low loss, ensuring your application runs optimally and supports the system to maximise the efficiency of the battery storage system.
They offer two fuse body types: XL (1500Vdc) and NH (1000Vdc).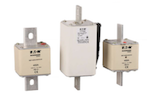 View Battery Storage Fuse Links
High Speed Fuses
Bussmann by Eaton offer a wide range of High Speed Fuses, including: BS88, Compact High Speed, DFJ, Ferrule, North American and Square Body Fuses.
High Voltage Fuses
Bussmann's High Voltage Fuses are used in applications that require high voltage circuits, ranging from 1,000 - 10,000V.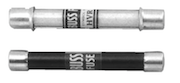 IEC & British Style BS88 Fuses
The BS88 are a high speed range of fuses that have an excellent cycling capability, DC performance as well as having low arc voltage and low energy let-through (I2t). The range for the 240V fuses are 9 – 900A and the 690V are 6 – 710A. Download the IEC and BS88 Fuse Catalogue here.
Industrial Fuses (Red Spot)
Bussmann offer a wide range of industrial (red spot) fuses specifically designed for the protection of general industrial applications, including: power distribution, cable protection and motor protection. Bussmann's industrial fuses are available in current ratings 2A-200A and voltage sizes A1 550Vac/250vdc and size A2-A4 660/690Vac up to 460Vdc, download the Industrial Fuse Catalogue here.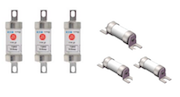 View Industrial/Red Spot Fuses
Low Voltage UL & CSA Branch Circuit Fuses
The Bussmann range includes Standard BS88 Fuses, Cylindrical Fuse links, NH Fuse links, D and DO American Fuses and North American Fuse links. GD Rectifiers also supply fuse holders for all of these ranges. Fuse classes include: CC, CF CUBEFuse, G, J, K5 and H, L, RK1, T and Plug Fuses, for further information download the low voltage catalogue here - Bussmann Low Voltage Catalogue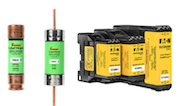 Medium Voltage Fuses
Bussmann's Medium Voltage Fuses offer unparalled short circuit interuption capabilities and are used by electrical utilities and switchgear manufacturers across the world. Bussmann's medium voltage range includes: BBU, Boric Acid, BS IEC, DIN IEC, E-rated, Fast Acting and R-rated Fuses. Download Bussmann's Medium Voltage Fuse Catalogue here.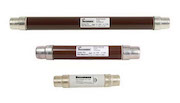 Square Body Fuses
Square body style fuses are used for high power applications which require compact design with high performance. Common ratings are 690V, 1000V and 1250V. The ranges for the 690V fuses are 40 - 2000A, 1000V are 50 - 1400A and for 1250V fuses it is 50-1400A. They come with a number of terminal options.


Square Body – 690V Datasheet
Square Body – 1000V Datasheet
Square Body – 1250V Datasheet
Cooper / Eaton Bussmann's Complete Range
In addition to high speed semiconductor fuses, GD Rectifiers can support and supply the complete range of Bussmann fuses.

For further information on all Cooper/Bussmann fuses please call: 01444 243 452 or email: .(JavaScript must be enabled to view this email address) all email enquiries.
Cooper Bussmann
Cooper Bussmann are a division of Cooper Industries and are a leading Manufacturer of Circuit Protection Solutions. The product range includes fuses that conform to various industrial standards such as BS, IEC, DIN and many others. They manufacture suitable fuse holders allowing for easy access to replace blown fuses. They also supply suitable microswitches and trip indicators within their range.
Further information:
You can find further information on Cooper Bussmann using the following links: