Liquid Cooling Systems
KONČAR's Liquid Cooling System is a compact single unit designed for installation in the traction converter. The liquid cooling system uses water to cool the converter power modules and the water itself is cooled by an air-to-water heat exchanger.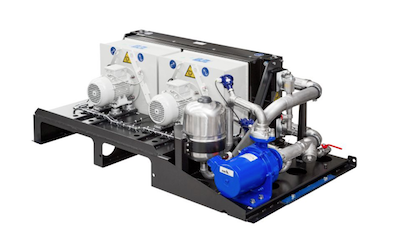 The liquid cooling system is intended for installation as a standalone unit under floor or on the roof of the vehicle as well as inside converter. A compact and light-weight design is achieved by custom-made heat exchangers ensuring ease and low cost maintenance.
KONČAR
KONČAR is a leading manufacturer of electric equipment and electro-energetic plant. They specialise in development, engineering, production, testing and maintenance of industrial electronic devices and systems.
Their production program includes - converters and control systems for railway vehicles, DC and AC UPS, static excitation systems for synchronous machines, ripple control systems, protection relays, electric measurements devices and systems, process informatics, electronic modules production and switches, transformer and reactor production and mechanical parts production.
Further information:
You can find further information on KONČAR using the following links:
Tel: 01444 243 452
Fax: 01444 870 722
Email: enquiries@gdrectifiers.co.uk