Cooper Bussmann
Cooper Bussmann offers a wide range of circuit protection, power conditioning and distribution services to electrical, electronics, transportation, wireless and consumer markets.
Cooper Bussmann is committed to the development, manufacturing and marketing of innovative circuit and power electronics protection, overvoltage protection, as well as power management solutions.
Eaton Corporation acquired Cooper Industries in 2012, today the complete Cooper Bussmann product range can be found under Eaton's Bussmann Series division.
Circuit Protection Devices
Cooper Bussmann offers a wide range low voltage, british style BS88, square body and HV fuses.
The Bussmann series range leads in critical circuit protection, power management and electrical safety and continues to service the industrial, electronics, alternative energy and high reliability markets.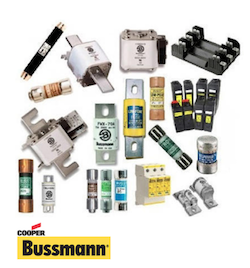 IEC and British Standard Fuses
Low Voltage UL and CSA Branch Circuit Fuses
For further information on Cooper Bussmann's range please call: 01444 243 452 or email: .(JavaScript must be enabled to view this email address).
Cooper Bussmann
Cooper Bussmann are a division of Cooper Industries and are a leading Manufacturer of Circuit Protection Solutions. The product range includes fuses that conform to various industrial standards such as BS, IEC, DIN and many others. They manufacture suitable fuse holders allowing for easy access to replace blown fuses. They also supply suitable microswitches and trip indicators within their range.
Further information:
You can find further information on Cooper Bussmann using the following links: