October 2019 - Helping keep the rail industry on track
Published on: 07/10/2019
With more electronic components being used in rail applications today than ever before, it's crucial to stay up-to-date with the latest technologies and industry standards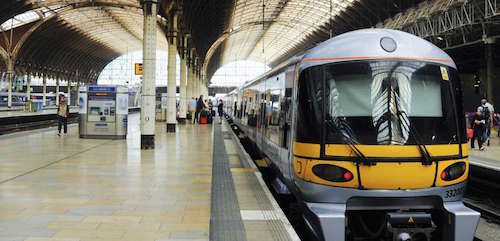 Strict industry standards coupled with the necessity for robust, rugged devices can make it challenging to purchase rail components. Buyers sourcing components for rail, rolling stock, infrastructure and signalling covers a wide range of electronic components, including: capacitors, resistors, diodes, high voltage rectifiers, IGBTs, MOSFETs, gate turn-off thyristors, fuses, heatsinks, rectifiers, motor protection devices and traction converters and subsystems all supplied by GD Rectifiers.
GD Rectifiers also distribute state-of-the-art KONČAR converters for trams, locomotives, trains and coaches, alongside liquid cooling systems, trackside converters and power electronic building blocks.
Electronic components are increasingly used in both new builds and in major maintenance overhaul. During maintenance refurbishment, safety critical components such as thermostats in heaters, ventilation and air conditioning systems are routinely changed, however this is often seen as an opportunity to modernise the facilities.
GD Rectifiers predicts that over the next five years the railway industry will make a conscious move to greener power. The government has announced plans to completely phase out diesel trains by 2040 and with a huge focus on it's soon to be replacement, hydrogen trains, we could see them start filtering through within the next two years. Hydrogen trains will provide emissions-free rolling stock, more effective performance during acceleration and nearly zero noise.
When sourcing railway components buyers should always purchase devices from reputable distributors that are authorised and franchised partner of the manufacturer. Franchised distributors can support buyers and offer alternative parts where required. They understand the industry standards and approvals required by the rail industry and can offer an extensive range of customised solutions. Specialist rail distributors are also invaluable when dealing with component obsolescence as they can source a lifetime buy, source stock from the pen market or help the buyer design in a new product.
When parts are designed in specifically for rail applications manufacturers are usually aware that the part is required to have a longer life-cycle which should fit in-line with it's end application. GD Rectifiers can assist with component obsolescence, sourcing requirements, bespoke solutions and can offer alternatives.
GD Rectifiers make it quick and easy for buyers to find the product information they need, including ordering samples, production parts, certificates of origin and drawings.
Within our development teams, we have the knowledge and the skills required to meet customers' needs. Our global presence means we operate wherever you do and we can support your project worldwide. Our focus on the railway supply industry allows buyers access to the widest selection of standard and customised rectifiers, IGBTs, MOSFETs, thyristors, diodes, heatsinks, high voltage semiconductor components, converters, liquid cooling systems, power electronic building blocks and capacitors.
GD Rectifiers are RISQ accredited, we support Great Britain's leading railway providers such as Network Rail, Transport for London, passenger and freight operating companies, rolling stock organisations, main infrastructure contractors and many other buying organisations in the management of supply chain risk.
GD Rectifiers has been servicing the railway industry for over 50 years, they have a knowledgeable team of sales engineers dedicated to supporting their customers. Their experienced team are ready to help buyers on their next project, tailoring their needs to their business.
For further information on GD Rectifiers' railway products and solutions please visit our website or call: 01444 243 452 or email your enquiry to: .(JavaScript must be enabled to view this email address)