November 2019 - Celebrating 55 Years as a Semikron Distributor
Published on: 29/11/2019
This year marks the milestone of GD Rectifiers' partnership with renowned semiconductor manufacturer, Semikron.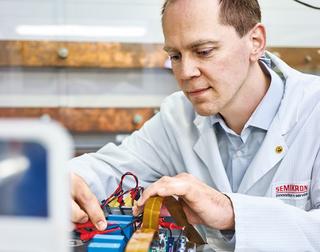 GD Rectifiers are celebrating 55 years as a Semikron partner, currently servicing customers with discrete semiconductors, diodes, thyristors, IGBTs, IGBT drivers, MOSFETs, thyristor diode modules, rectifier bridges, SiC power modules, SiC hybrid power modules and power assemblies throughout Europe.
Semikron is one of the world's leading manufacturers of power modules and systems, primarily in the medium output range. The family business was founded in 1951 in Germany and since it's inception has been a firm favourite semiconductor brand amongst our customers. Semikron's state-of-the-art power electronic components enables our customers to develop smaller and more energy efficient power electronic systems, helping to reduce the demand of global energy.
GD Rectifiers is the UK's official distributor for Semikron, call: 01444 243 452 or email .(JavaScript must be enabled to view this email address) today to speak to the team and receive a competitive quote.