May 2021 - Mersen Fuses and Switchgear for Solar Systems with PV String Inverters
Published on: 25/05/2021
Designed specifically for photovoltaic systems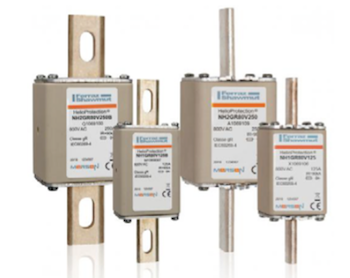 Mersen has decades of experience with NH Fuse-links and NH fuse switch disconnectors through Multivert and Multibloc ranges, enabling Mersen to offer a complete solution to their customers, delivering high quality products that meet the specific application requirements, high level of service and expertise.
Mersen's NH 800V AC fuses have been designed specifically for photovoltaic systems with 1500VDC/800VAC inverters. Thanks to a specific silver fuse element design in comparison to conventional line protection gG class operating fuses, these 800VAC fuses can interrupt any surge from the lowest fusing up to 90kAmps at a tested voltage of 880V, in a standard NH type size.
With the gR operating class described both in IEC60269 standard and UL 248-13 Mersen can provide a fuse offer that is globally accepted, whatever the area of destination, including Europe, Asia, South or North America.
Today Mersen is the only manufacturer to offer a complete package of NH fuses and FSDs designed specifically to answer the requirements of protection and distribution of electric networks in the combiner boxes on the AC side of the new string inverters with rated operational voltage of 800VAC. This offer includes NH fuse links, NH fuse switch disconnectors in a horizontal version (Multibloc) and in a vertical version (Multivert).
GD Rectifiers is an authorised distributor for Mersen, stocking their complete range of fuses, high voltage IEC fuses, low voltage IEC fuses and surge arresters.
For further information on Mersen products, or to receive a quote, please call GD Rectifiers on: 01444 243 452 or email: .(JavaScript must be enabled to view this email address).