May 2019 - The Importance of Power Factor Correction
Published on: 31/05/2019
A good power factor is becoming increasingly important today because more devices are fitted with switch-mode power supplies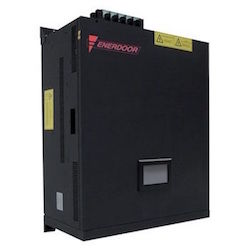 Equipment fitted with switch-mode power supplies can often present a non-linear load and create harmonics that could potentially cause damage, lower efficiency and increase running costs.
In an ideal situation, the voltage and current would be in phase so that the device consumed all the power it drew and the PF was 1.0. Power Factor is best described as the ratio of the actual electrical power dissipated by an AC circuit, PF values can range from 0 to 1. When all the power is reactive power with no real power (usually an inductive load) the power factor is 0 which is when a power factor correction device is required.
Power factor correction is an adjustment of the electrical circuit in order to change the power factor to as close to 1 as possible. Increased power factor reduces the reactive power in the circuit and most of the power in the circuit will be real power, reducing power line losses.
Enerdoor is an international leader in the development and production of electromagnetic solutions for automated and industrial machinery, offering a large range of standard and customised power factor correction solutions for a wide range of applications.
Enerdoor's FINSVG Active Static Var Generator offers:
- Modular design
- Nominal voltage 400-600Vac
- High speed response
- Controls power factor compensation, compensates Kvar from 50A
- Not affected by harmonic distortion
GD Rectifiers is Enerdoor's exclusive UK distributor of their circuit protection and electromagnetic solutions, offering a wide range of: DC filters, harmonic filters, motor protection, parallel filters, power factor correction, surge arresters and voltage stabilisers.
For further information on Enerdoor's product range or to receive a quote, please call GD Rectifiers on: 01444 243 452 or email: .(JavaScript must be enabled to view this email address).