May 2019 - Railtex 2019
Published on: 13/05/2019
This year Railtex will celebrate it's 14th international exhibition

Later this week, from 14-16th May, Railtex will take place at the NEC in Birmingham with more than 440 organisations, both UK and international suppliers exhibiting from 22 countries. Exhibitors include: AEI Cables, Aerco, Anixter, Mitsubishi Electric, Nord-Lock Group, Hitachi Rail, IXYS, Network Rail, Pace Networks, Rexel UK, Televic Rail and TransCityRail.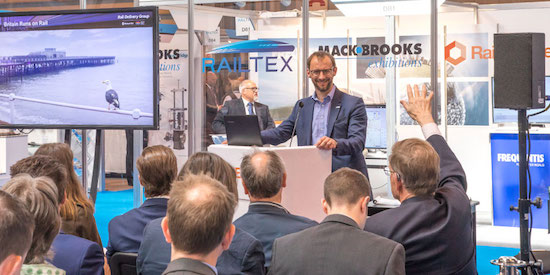 Railtex is the UK's leading exhibition of railway equipment, systems and services. It creates maximum engagement for visitors and attracts a high attendance by placing thousands of industry professionals together in one place at one time, featuring companies serving all aspects of the infrastructure and rolling stock sectors.
Established in 1993, this will be Railtex's 14th international exhibition which continues to enjoy strong support throughout the rail industry every year, appealing to both engineers and buyers at the highest levels.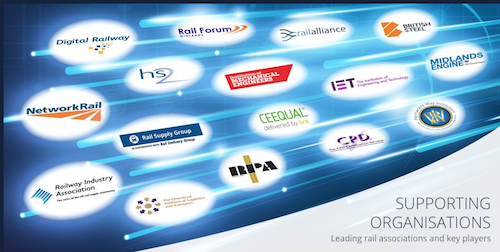 This year will see the launch of the Digital Railway, a project aimed at meeting the demands of the ever-growing passenger numbers on a squeezed and ageing rail network, which will be featured through a new forum that merges project management with supply chain to allow a collaborative review of the programme. The purpose of the Digital Railway is to explore topics such as: thought leadership, insight, sense testing, qualitative engagement and cross-fertilisation to ensure the programme's goals are met.
The exhibition itself hosts a variety of CPC certified seminars, discussion forums and keynote speeches all held to highlight industry trends. Railtex offers a comprehensive insight into the research, developments and technologies impacting the rail industry.
Railtex provides the perfect platform for companies serving all aspects of the infrastructure and rolling stock sectors to demonstrate their capabilities and meet their customers and explore new opportunities within the industry.
10 Reasons to Attend This Year
1. Over 420 exhibitors from 22 countries
2. Showcasing the latest rail infrastructure and rolling stock products the industry has to offer
3. Featuring the best of British innovation and technology
4. Q&A sessions with leading figures involved in some of the UK's biggest and most ambitious infrastructure projects including HS2, Crossrail, Thameslink and the Great North Rail Project
5. On track display sponsored by British Steel
6. Keynote speeches from industry leaders and influencers
7. A programme of free industry seminars highlighting technological developments
8. Project updates covering current UK rail programmes
9. Future Focus Conference hosted by the Railway Industry Association (RIA) with a keynote address from Rail Minister Andrew Jones MP
10. Access to the latest job vacancies and career development opportunities
Railtex is attended by a large array of sectors, including: main line passenger and rail freight operators, main line infrastructure authorities, urban rail undertakings, national, regional and local government transport agencies, rail regulation and safety bodies, infrastructure contracting and maintenance, suppliers and buyers of products and services to the rail market and consultants and transport planners.
Entry tickets to the exhibition will be available free of charge before 13th May from the Railtex website here.
GD Rectifiers has been servicing the railway industry for over 50 years, we have an extensive team of sales engineers dedicated to supporting you. Our experienced team are ready to help you on your next project, tailoring your needs to your business.
We offer an extensive range of passive electronic components, including IGBTs, MOSFETs, thyristors, diodes, resistors, capacitors, high voltage rectifiers, fuses, heatsinks, low temperature capacitors and rectifiers.
We also distribute state-of-the-art KONČAR converters for trams, locomotives, trains and coaches, alongside liquid cooling systems, trackside converters and power electronic building blocks.
At GD Rectifiers, we make it quick and easy for you to find the product information you need, including ordering samples, production parts, certificates of origin and drawings.
Within our development teams, we have the knowledge and the skills required to meet customers' needs. Our global presence means we operate wherever you do and we can support your project worldwide. Our focus on the railway supply industry allows you access to the widest selection of standard and customised rectifiers, IGBTs, MOSFETs, thyristors, diodes, heatsinks, high voltage semiconductor components, converters, liquid cooling systems, power electronic building blocks and capacitors.
GD Rectifiers are RISQ accredited, we support Great Britain's leading railway providers such as Network Rail, Transport for London, passenger and freight operating companies, rolling stock organisations, main infrastructure contractors and many other buying organisations in the management of supply chain risk.
For further information on how we could help you on your latest project, please call our team today on: 01444 243 452 or email: .(JavaScript must be enabled to view this email address).