May 2019 - PCIM Europe 2019 - This Year's Highlights
Published on: 10/05/2019
GD Rectifiers share their highlights from this year's biggest exhibition in the power electronics industry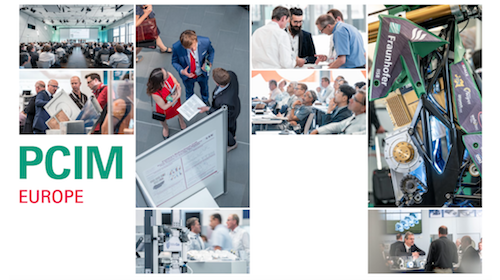 This year's PCIM Europe continued to attract engineers, buyers and specialists within the industry, with over 11,602 visitors in attendance, along with 506 exhibitors, 117 forum presentations and 803 conference delegates.
Known as the number one exhibition in the power electronics industry, hosted in Nuremburg, Germany for it's 40th year, PCIM didn't disappoint in exciting visitors with it's one-stop shop for technical knowledge, market trends, customer attractions and valuable contacts.
This years' exhibition focused on wide bandgap, reliability and robustness validation, energy efficiency, renewable energies and future smart power grids.
With the increasing demand for wide bandgap technologies, visitors saw extensive coverage of new GaN device designs, including smart driving concepts, improved electrical, thermal and reliability data for SiC components and innovative system designs that manage ultrafast switches in power converters.
International experts from industry and academia demonstrated several solutions on the system level as well as showcased the handling of extremely high di/dt's and dv/dt's inside the package.
GD Rectifiers' Top 5 Highlights From This Year
1) Infineon in volume production of 1,200V CoolSic MOSFETs
Infineon has started high volume production of a comprehensive range of 1200V CoolSiC MOSFET devices. They are rated from 30mΩ to 350mΩ and implemented into TO247-3 and TO247-4 housings.
2) Murata's high efficiency 12V 6A PoL modules
Nigel Brooke of Murata discussed the release of the company's high efficiency 12V 6A PoL modules which use a dual stage architecture. This unique architecture enables higher efficiency and smaller form factors than competitive devices for use in communications infrastructure applications.
3) ST's power tool motor control MCU has built-in MOSFET drivers
STMicroelectronics expands it's STSPIN32 programmable motor controller family with a system-in-package brushless-dc (BLDC) motor battery operated power tools. STSPIN32F0B integrates an op-amp for current sensing through a single resistor in the negative return wire.
4) Nexperia's LFPAK family offer a 60% footprint reduction and lower profile
Chris Boyce of Nexperia discussed the company's new LFPAK family that results in 40V MOSFETs delivering a low RDS(on) of 0.7mΩ. The LFPAK88 devices replace larger power packages such as D²PAK and D²PAK-7and by measuring 8x8mm they offer a footprint reduction of 60% and a 64% lower profile.
5) Littelfuse's new 1000V Ultra Junction X-Class HiPerFET MOSFETs
Littelfuse presented a new product line well-suited to high-efficiency, high-power density applications including resonant-mode power supplies, battery chargers and welding inverters. Each MOSFET can replace several parallel-connected higher on-resistance devices for simpler design, higher reliability and reduced cost.
GD Rectifiers is an official distributor for over 30 of the world's leading power electronics manufacturers, including: IXYS, Westcode, Dynex, Bussmann, Mersen, Sirio, Enerdoor, Eichhoff Elektro, API Capacitors, Koncar, Arcol, United Automation, Telcon, Ocram and EDI.
GD Rectifiers stocks a wide range of semiconductors, passive components, circuit protection devices, magnetic transducer and wound products and traction converters and subsystems.
They have been of the UK's leading distributors for over 55 years and offer competitive quotes, fast delivery and expert technical support on their entire product portfolio.
The company also manufactures a wide range of electronic components and solutions, including: obsolete semiconductors, high voltage diodes, rectifiers, selenium suppressors, and standard and customised heatsinks and power assemblies.
For further information on GD Rectifiers' product range, or to discuss your next project, please call: 01444 243 452 or email: .(JavaScript must be enabled to view this email address).