May 2019 - PCIM 2019: Our Manufacturer Highlights
Published on: 28/05/2019
Explore our manufacturer's highlights from this year's PCIM Europe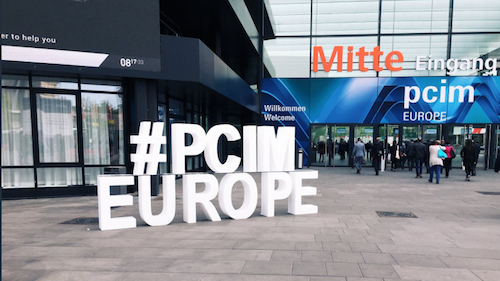 Littelfuse
This year at PCIM Littelfuse launched it's new 1000V ultra junction X-class HiPerFET MOSFETs, the product line is well-suited for high efficiency, high-power density applications. These include resonant-mode power supplies, battery chargers and welding inverters. Each MOSFET can replace several parallel-connected higher on-resistance devices for simpler design, high reliability and lower cost.
In addition to the 1000V ultra junction MOSFETs, Littelfuse also showcased several other products including: 150V ultra junction MOSFETs, surge protection modules, high power modules and bladed high-speed fuses. Visitors were fortunate enough to experience high power modules, SiC, bipolar devices, EV charging and charging infrastructure demonstrations.
GD Rectifiers has been an authorised distributor for IXYS for over 24 years. Since Littlefuses' acquisition of IXYS in 2018, GD Rectifiers have recently become an authorised distributor for Littelfuse, offering their impressive range of: speciality fuses, medium voltage fuses, resettable fuses, solar products, TVS diodes, surge protection modules, protection relays, LED protectors and MOVs.
SEMIKRON
SEMIKRON showcased some exciting product developments at PCIM this year, including IGBT Generation 7: the new benchmark for motor drives, up to 180Kw for solar string inverters, 3-level topologies for wind turbines, high power reliability for EV chargers, Compact MOSFET inverter platform for battery vehicles and the high-power standard in traction, renewables and drives.
SEMIKRON's latest IGBT chip technology, Generation 7 IGBTs have been specifically designed to match the requirements of motor drive applications. The IGBTs come with a significantly lower forward voltage drop and deliver optimised switching performance. In application, the IGBT 7 provides reduced power losses or increased maximum output power and power density which reduces system costs. For motor drives, the generation IGBT 7 will initially be introduced into conventional drive topologies: CIB (Converter-Inverter-Brake), sixpack and half-bridge configurations. For low and medium power drives, MiniSKiiP and Semitop E1/E2 are the first available choice. For higher power classes IGBT 7 is available in SEMiX 3 press-fit and SEMiX 6 press-fit.
GD Rectifiers has been an official distributor for Semikron for over 55 years. They offer Semikron's extensive range of: Diodes, IGBTs, IGBT Drivers, MOSFETs, Rectifier Bridges, SiC Hybrid Power Modules, SiC Power Modules, Thyristors, Thyristor Diode Modules, Power Assemblies and Heatsinks.
Learn more about all of Semikron's PCIM highlights here.
Dynex
Dynex Semiconductor showcased dynamic upcoming product ranges and their more traditional lines, including: new products designed for end user applications such as: power, traction, industrial and automotive. IGBT, press-pack, open source, IGCT and HIPA, next generation high-power IGBT and press-pack IGBT range, exceptional manufacturing capabilities, turnkey power assemblies designed and built to customer requirements including static and passive testers, high reliability in service GTO's and bipolar range and new development SiC and automotive range.
Dynex also exhibited their new virtual reality system, designed to demonstrate the efficiency of their fast low conduction loss and standard range of next generation IGBTs in a traction application.
GD Rectifiers have recently become an official distributor for Dynex, offering their extensive range of high power IGBT modules and FRD modules. Dynex's robust high power IGBT modules suit a wide range of applications such as traction drives, motor controllers and high reliability inverters. Dynex's FRD modules regulate electricity flow to ensure higher reliability and increased efficiency in motor drives and other variable speed processes.
For further information on Dynex's product range or to receive a quote, please call our sales team today on: 01444 243 452 or email: .(JavaScript must be enabled to view this email address).
Mersen
Mersen showcased the future of protection for EV and battery storage applications at this year's exhibition, featuring: DC fuses, hybrid pyro-fuses and power relays, monitoring busbar for battery cell connection and sensing, air and water cooling solutions, high reliability busbars and aluminium electrolytic capacitors and film capacitors.
GD Rectifiers has been an authorised distributor for Mersen for over 21 years, stocking their extensive range of: Fuses, High Voltage Fuses, Low Voltage Fuses and Surge Arresters.
Discover our other highlights from this year's PCIM over on our blog here.
Looking for semiconductor components, power assemblies, heatsinks, circuit protection devices or passive components, call our team to discuss your requirements today: 01444 243 452 or email: .(JavaScript must be enabled to view this email address).