March 2021 - Capacitors by GD Rectifiers
Published on: 15/03/2021
Industry-leading capacitors available at GD Rectifiers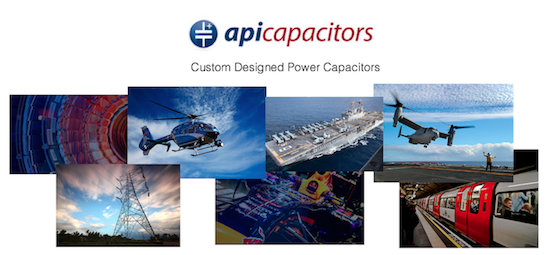 GD Rectifiers has a huge selection of capacitors and capacitor accessories from API Capacitors, an industry-leading manufacturer. Shop standard and customised capacitors, including ceramic, electrolytic, RF, film, polymer ad tantalum capacitors in a wide variety of materials and structures, variable electronic capacitor components and networks. Capacitor types include: AC Capacitors, DC Capacitors, Snubber Capacitors, Ultra Low Temperature Capacitors, Energy Storage Capacitors and Track Circuit Capacitors.
API Capacitors offers a vast array of innovative capacitors that customers trust and rely on.
What is a capacitor and how does it work?
A capacitor is a passive electrical component designed with two terminals that store electromagnetic energy in the form of an electric field. The terminals are connected to two conductive plates that have a dielectric material between them and the electric charge is stored on their conductive plates. The charged plates are separated by the dielectric material which creates an electric field.
What capacitor types are available?
- Metal plate material – e.g. silver, aluminium, tantalum
- Dielectric plate material – paper, film, ceramic
- Max voltage – cannot be exceeded or the device will break
- Size – capacitance and dimensions
- Tolerance – variance on the capacitance value
- Mounting type – how its fixed to the circuit
- Equivalent series resistance – resistance of the terminals
Typical Applications
Various types of capacitors are used in a wide range of applications, including those in: power supplies, energy storage and supply systems, power electronics, static and non-static drives, power transmission systems, filters, converters, automotive and signal filtering such as telecommunications.
GD Rectifiers is an official distributor for API Capacitors, offering a full dedicated service to customers sourcing capacitors including; competitive pricing, design and manufacture solutions to suit your requirements, expert technical support and flexible purchasing solutions.
For further information on API Capacitor products, or to discuss your requirements in more detail, please call: 01444 243 452 or email: .(JavaScript must be enabled to view this email address).