March 2020 - Smart Component Solutions by GD Rectifiers
Published on: 13/03/2020
GD Rectifiers offers a broad range of electronic components to optimise your design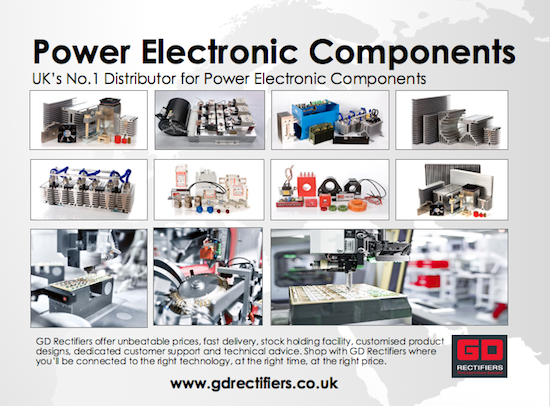 GD Rectifiers has over 55 years of engineering experience within the power electronics industry, from sourcing power electronic components to designing power assemblies and heatsinks for the rail, submarine and industrial industries. GD Rectifiers is an ISO:9001:2015 registered company that design and develop bespoke semiconductor assemblies to control voltage, current and frequency for international industrial markets.
We work with some of the world's leading brands in power semiconductors, circuit protection, passives and traction and subsystems, including: IXYS, IXYS UK Westcode, Semikron, Dynex, Mersen, Bussmann, API Capacitors, Enerdoor and Koncar.
We are proud to offer our customers numerous benefits for shopping with us, including:
- Shop from over 170,000 electronic components in stock now
- Competitive pricing and fast delivery
- Receive non-stocked items on short lead times
- Place scheduled order to enjoy competitive, fixed pricing for up to 12 months
- Our call-off orders provide maximum flexibility and we'll stock the components in our warehouse until you need them
- Our dedicated sales team provide pioneering customer service and expert technical advice
- We work hard to source obsolete and hard to find semiconductor components at the best possible prices
- We're able to manufacture a wide range of obsolete semiconductors
- We design and manufacture custom heatsinks and power assemblies designed for high power industrial applications
- We can offer a repair and replacement service for faulty or aging semiconductor rectifiers, converters, inverters and regulators
Download our 2020 line card here
Shop our extensive product range today:
Power Assemblies & Controllers
Magnetic Transducers & Wound Products
Traction Converters and Subsystems
Looking for a manufacturer part, but not sure which one you need? Shop by Manufacturer today on our website for a complete list of parts.
Alternatively, Shop by Product here to find everything you need.
For further information on our products and services or to discuss a new project, please call our sales team on: 01444 243 452 or email: .(JavaScript must be enabled to view this email address).