June 2021 - SEMIKRON's How to Read an IGBT Module Datasheet Webinar
Published on: 11/06/2021
Register for the webinar to learn more about SEMIKRON datasheets, ideal for both entry level and experienced buyers and engineers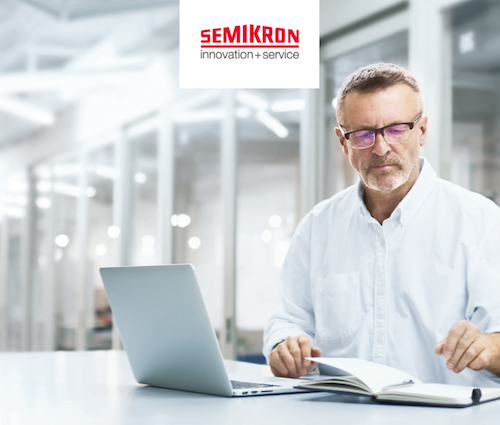 Tuesday 22 June 2021, 3PM
IGBT module datasheets can often cause confusion for engineers. SEMIKRON's latest webinar introduces a typical industrial IGBT module datasheet, explaining each term and providing insight as to how it can be used. The webinar provides datasheet clarity for both entry-level and experienced buyers, procurement specialists and engineers.
In the webinar, SEMIKRON explains the difference between "maximum ratings" and "characteristics" and show the power designer which parameters are valuable for design and which points must be considered when comparing datasheets across manufacturers.
Agenda
Learn the standard sections and layout of a SEMIKRON datasheet
Understand how datasheet values are derived
Gain insight when comparing datasheets from different manufacturers
Webinar Date: Tuesday 22 June 2021, 3PM GMT
Webinar Duration: 45 minutes
GD Rectifiers has been distributing SEMIKRON products for over 55 years. GD Rectifiers specialises in SEMIKRON's diodes, IGBTs, IGBT drivers, MOSFETs, rectifier bridges, SiC hybrid power modules, SiC power modules, thyristors and thyristor diode modules.
GD Rectifiers provides expert technical support on Semikron components, offering competitive prices and short lead times where possible.
For more information on Semikron products or to check stock, prices and datasheets, please contact GD Rectifiers on: 01444 243 452 or email: .(JavaScript must be enabled to view this email address).