June 2021 - Power Semiconductor Assemblies
Published on: 04/06/2021
Power assemblies designed to your specification, budget and application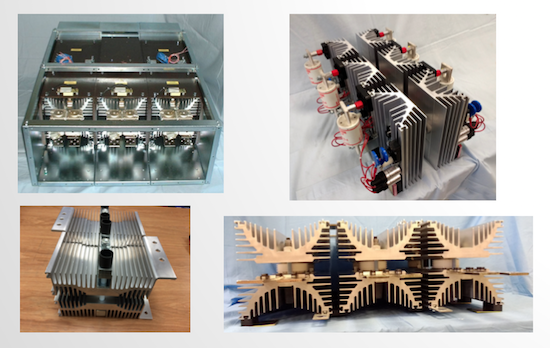 GD Rectifiers has more than 55 years of experience in the design, manufacture and assembly of high-power semiconductor assemblies. We offer power semiconductor assemblies designed to your specification, budget and timescales.
Our power assemblies are designed and manufactured by our expert team of engineers and are made using power semiconductors from our partners, including IXYS, Westcode, Semikron and Dynex.
We combine our state-of-the-art engineering expertise with industry-leading semiconductor technology from the world's leading brands. We utilise our approved semiconductor suppliers' range of diodes, thyristors, IGBT modules and MOSFETs combined with our bespoke thermal management solutions, providing a value-added product designed to suit your requirements.
The semiconductors we use feature a wide variety of topologies and we can convert AC/DC, AC/AC, DC/AC and DC/DC to suit your specification.
We offer a wide and varied range of industry-leading power assemblies using the latest engineering technology. Our power semiconductor assemblies deliver performance and reliability for crucial customer applications, including: AC drives, DC drives, bridges, regulators, soft start, energy optimisers, telecommunications, UPS and SMPS.
Benefits of using GD Rectifiers as your power assembly designer:
- State-of-the-art assemblies designed using SCR thyristors, GTO thyristors and IGBT or diode modules
- Customised type of heatsink, transient conditions, overloads, ambient temperature, surface finish and
cooling method is chosen by the customer and our engineering team
- Large range of designs with different cooling techniques available in heatsink assemblies
- Catering to standalone systems, sub-components and standard power assemblies
- Expert technical support and assistance throughout the design process
- Delivering high performance, cost effective assembly solutions with short lead times
- Single phase, three phase and hex phase assemblies available
Our engineers have a wealth of experience in the design and manufacturing of power assemblies most commonly used across transport, renewables, industrial and power grid markets. We use a large range of bipolar and IGBT power semiconductor devices to ensure our standard power assemblies are optimised for customer applications.
For further information on our extensive range of power semiconductor assemblies, or to discuss your enquiry with our team, please call: 01444 243 452 or email .(JavaScript must be enabled to view this email address)