July 2019 - Introducing Sirio's Current Transformers
Published on: 31/07/2019
GD Rectifiers offers Sirio's comprehensive range of Current Transformers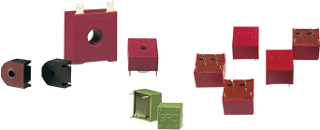 Sirio Inductive Components specialise in developing quality electromagnetic components for industrial applications, in particular the power conversion sector and high frequency applications with high insulation.
GD Rectifiers are an official distributor for Sirio components and stock a wide range of Current Transformers including:
Mains Frequency Current Transformers
Current Transformers for Measurement Purpose
Current Transformers for High Frequency Applications
EE Core Based Drive Transformers
Low Coupling Capacity Gate Drive Transformers
Ring Core Based Gate Drive Transformers
GD Rectifiers work directly with their customers to establish the final application and the purpose for which the current transformer is required.
They explore the right current transformer for the customer, explaining the various benefits and features of the device. Each type of current transformer has its own special features but they all have the same objective, to convert, the input current value in a proportional signal; the accuracy of the measurement depends on the application.
Shop our complete Sirio product portfolio here.
For further information on Sirio products please call us today on: 01444 243 452 or email: .(JavaScript must be enabled to view this email address).