January 2022 - Power Electronics for Solar Inverters
Published on: 10/01/2022
Introducing Semikron's power electronics designed for Solar Inverters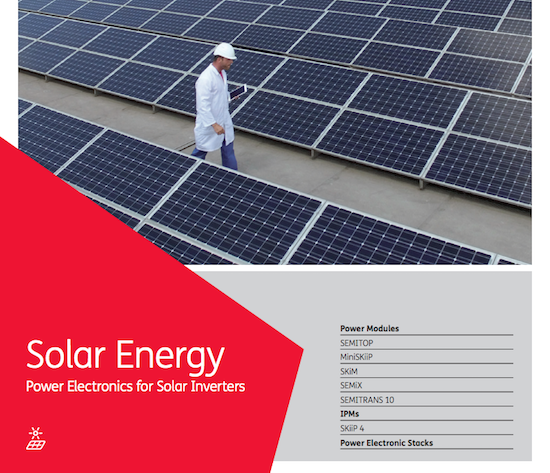 Semikron offer a wide range of products for efficient solar inverters in all power ranges: residential, industrial and utility scale. From individual modules including dedicated drivers to high-power SKiiP4 IPMs and ready-to-use power electronic stacks, Semikron has the solution.
Offering a large portfolio of 3-level modules, IPMs and power electronic stacks which can reduce system costs significantly as well as optimising annual energy production, especially for increased DC voltages of up to 1500VDC.

Semikron's Power Modules
- Broad portfolio of 2-level, 3-level and booster modules
- Up to 750Kw (air cooled) without paralleling with SEMITRANS 10
- Up to 400A for direct PCB mounting with MiniSKiiP
- Latest Si and SiC chip technologies available: solder pins, press-fit pins, screw connectors and spring contacts
- Plug and play drivers
Semikron's IPMs
- Dedicated SKiiP 4 version for 1500V PV applications
- Water and air cooled versions
- CANOpen interface for diagnostics
- Maximum reliability thanks to single sided sintering technology and Semikron ASIC driver chipset
- 100% tested including burn-in test
Semikron's Stacks
- Fast time-to-market with ready-to-use power electronic stacks
- Customised designs for individual customer applications
- Including Semikron drivers with ASIC chipset for maximum reliability
- UL ready
- IntelliOff function for 1500V DC voltage
MiniSKiiP Dual Split MLI
- Up to 180kW baseplate-less design for direct PCB mounting
- Maximum efficiency thanks to the use of SiC schottky diodes in neutral path
- Low-inductance DC-link connection
- Spring contacts for easy PCB routing
- Well established and highly reliable MiniSKiiP package
- Optimised production costs thanks to quick and easy assembly
- Also available with the latest 950V IGBT technology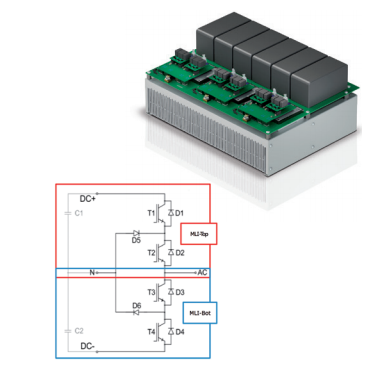 GD Rectifiers is a distributor for SEMIKRON and has partnered with the German semiconductor manufacturer for over twenty-five years. GD Rectifiers stocks SEMIKRON's extensive range of diodes, thyristors, IGBTs, IGBT drivers, MOSFETs, rectifier bridges, SiC hybrid power modules, SiC power modules and thyristor diode modules.
For further information on Semikron's power electronics for solar inverters, please contact GD Rectifiers on: 01444 243 452 or email: .(JavaScript must be enabled to view this email address).